If you're thinking about adoption, congrats to you! Adopting a child is a big decision that can positively impact your family and the life of the child in question. By including a new member in your family, you can enhance your life and that of the child. There's no better experience than the gift of love and giving that love to an innocent child. However, with all the positivity surrounding adoption, adoption isn't as straightforward as one may presume. It's a technical process that can be overwhelming for any person.
For the adoption to succeed, there are numerous factors to consider since the child's future is at stake. Every adoption litigation requires personalized attention from a licensed legal professional. If you want to get an experienced Douglasville adoption lawyer well-versed in Georgia's various adoption law policies, you can rely on Hartley, Rowe & Fowler as your go-to legal representatives.
Hartley, Rowe & Fowler can guide you through the requisite legal processes of adoption to guarantee a successful outcome. Regardless if you're dealing with adoption lawyers, with fertility problems with your spouse, want to offer a loving home to a needy/unfortunate child, are a same-sex couple, or want stepparent and relative adoptions, you can count on Hartley, Rowe & Fowler to deal with the legal aspects of things. Our team is dedicated to providing compassionate and effective legal support to ensure a positive and secure future for you and the child you wish to adopt.
We are conversant with the laws governing adoption in Georgia and will assist you through the process. Our Douglasville adoption attorneys will ensure that you have met all the requirements of agency adoption, and filed the necessary legal documents that protect your rights and that of the child. If you want to pursue adoption in Douglasville, GA you should consider reaching out to the law offices of Hartley, Rowe & Fowler at 678-825-6004 to request a no-obligatory and no-cost consultation TODAY!
How Does Adoption Work in Georgia?
The adoption process in Georgia may be dealt with private adoption organizations, private attorneys, or they may be subject to approval by the Georgia Division of Family and Youth Services (DFCS), which mainly manage older kids who were deserted by their families or where parental/guardian rights were ended due to neglect or abuse by biological parents.
Per Georgia Statutes Section 19-8-3, for you to be eligible to adopt a child, you must fulfill these conditions:
If single, you must not be less than 25 years or must be married and residing with a spouse.
You must have been living in Georgia for a period of not less than 6 months.
The child must be at least 10 years younger than the adoptive parent.
You must be mentally, physically, and financially stable to take care of the child. This may include presenting pay stubs, mortgage statements, and bank accounts.
One is also expected to undergo a standard medical assessment.
Included in the requirements, one will have to submit to home evaluations, have sittings with caseworkers, and undergo both Georgia and Federal criminal background checks and fingerprinting. Before the adoption process is completed, prospective parents and the courts will need to break off any rights and privileges the birth parents may have. It's crucial to understand that these steps are designed to ensure the safety and well-being of the child being adopted, providing a thorough assessment of the prospective parents' suitability to provide a loving and stable home. Your experienced adoption attorney can guide you through each of these necessary procedures to streamline the adoption process.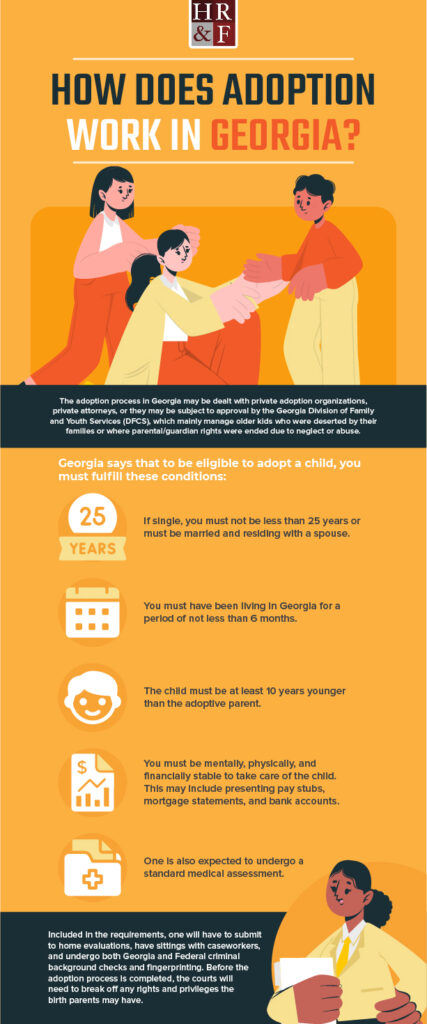 How Long Does the Adoption Process Take in Georgia?
It's normal for potential adoptive guardians to want to know the duration the adoption process will take. In truth, the duration the adoption will take varies depending on an array of factors, including the court the adoption has been filed, the adoption type, if the rights and privileges of birth parents have been ended, among other circumstances.
In general, the longest part of the entire adoption process is usually getting paired to a child, be it via an adoption agency, private channels, or the Georgia Department of Family and Children Services. There's no specific timeline for pairing a youngster to potential adoptive parents. However, relative and stepparent adoptions don't have long wait times. Once matched up and the involved parties are satisfied, the adoption process usually proceeds smoothly.
Uncontested adoptions, where the birth parent's rights have been relinquished or ended, typically pass through Georgia courts fast, and it's not uncommon to see the adoption completed within 30-45 days following the filed petition. It's important to consult with an experienced adoption attorney who can provide guidance specific to your situation and navigate you through the process efficiently.
On the other hand, contested adoptions can take a prolonged duration to pass through the courts. This is because adoptions of this type entail requesting the court to break off the birth parents' rights, which are subject to bureaucratic requirements and safeguards. This includes periods where the refuting parent is notified of the legal proceedings being undertaken and is against the adoption. For biological parent and parental rights to be terminated by the courts, the evidence must prove abandonment, gross misconduct, and inability to provide for the child appropriately.
Regardless of the kind of adoption taken, it's integral that the correct steps are undertaken at every phase of the adoption process. No matter the length of the adoption process, the prospective adoptive parents or guardians should never try to cut corners or take any unnecessary chances regarding the adoption's legality.
Considering what is at stake, it's more important the adoption be completed properly than quickly. For this reason, as a prospective adoptive parent, it would be best to enlist children services of a skilled Douglasville adoption lawyer to safeguard the integrity of the adoption process and ascertain it is done correctly.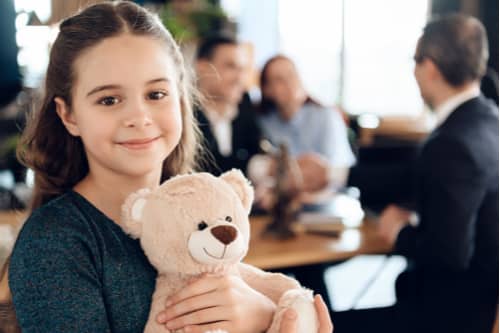 How Much Does Adoption Cost in Georgia?
The laws governing adoption in Georgia are clear-cut in what is allowed agency adoptions and not. Only certified child placement organizations can facilitate adoptions, and although fees contrast, they are talked over upfront. According to the National Infertility and Adoption Education Non-Profit, the estimated adoption cost in Georgia is between $10,000 and $30,000.
Getting an infant instead of an older child is more costly and difficult, and about half of the overall costs are allotted to the birth expenses of the mother. Although it's against the law for adoption agencies or persons to give anything to birth parents as an incentive to give up their child, adoptive parents are allowed to pay medical costs accrued by the mother. These expenses may include prenatal vitamins, sonograms, hospital bills affiliated with the delivery, and medical treatment costs needed by the child or mother following birth.
Consult With a Douglasville Adoption Lawyer for Free
Perhaps you are a mother, or father, or are a relative of the child you want to adopt. It would be so heart-wrenching to place the fate of your future adopted daughter or son in jeopardy by hiring somebody who doesn't fully comprehend Georgia's adoption laws and policies. You need a seasoned Douglasville adoption attorney or lawyer to navigate you through the complex adoption process.
Our team at Hartley, Rowe & Fowler is passionate about the welfare of children and knows they need a loving home. If you believe you can be a good father or mother, you can call 678-825-6004 to schedule a free consultation and start this life-altering journey!