When you or your loved one falls sick, you expect the best medical care when you visit a hospital. Health care providers must offer you the best possible treatment for your condition. Unfortunately, this isn't always the case. An experienced Douglasville medical malpractice lawyer can help you get the justice you deserve during such times.
Medical malpractice can lead to severe injuries or even death. A medical malpractice lawyer can conduct an in-depth investigation, establish liability, handle negotiations with the other parties involved in the claim, and file a medical malpractice lawsuit if an out-of-court settlement doesn't work out. Our team at Hartley, Rowe & Fowler are prepared to build a solid case to help you get the compensation you deserve for your injuries.
Call our Douglasville personal injury lawyers today at 678-825-6004 to schedule your free case review. Our skilled legal team will advise you regarding your legal options.
What Is Medical Malpractice?
When the actions of a health care provider, like a doctor, nurse, radiologist, or pharmacist, lead to your injury or the demise of someone you care about, this is considered medical malpractice. Medical professionals who don't provide acceptable medical standards to their patients engage in medical malpractice.
Medical negligence when providing care to patients may also apply to entities like hospitals, product suppliers, and pharmaceutical companies. It is the role of everyone in the medical field to ensure their actions don't jeopardize the health and wellbeing of patients.
The experienced medical malpractice attorneys at Hartley, Rowe & Fowler will go through all the facts of your case to determine if you are eligible to file a medical malpractice claim in Douglasville, GA.
How Do You Know You Have a Medical Malpractice Claim?
Medical malpractice may occur through misdiagnosis, wrong medication, overtreatment, incompetence, or even delayed treatment. If you suspect you have a medical negligence case, it is advisable to seek the opinion of various medical specialists. A knowledgeable Douglasville medical malpractice lawyer can help you build an airtight medical malpractice case by proving these four elements:
Doctor-Patient Relationship
The first element that a plaintiff should prove in a Douglasville medical malpractice case is the existence of a doctor-patient relationship. Doctors have a duty of care to all their patients. An experienced medical negligence attorney can prove that the doctor in question was in charge of your diagnosis and treatment.
Negligence
Your medical practitioner's actions or inactions may amount to medical negligence. For instance, a doctor who doesn't run all necessary tests and concludes you have asthma rather than lung cancer can be sued for medical negligence. The negligent actions of such a doctor may lead to wrong or even delayed treatment which may worsen your condition.
To prove negligence in a medical malpractice case, the opinions and insights of expert witnesses, like surgeons, experienced general practitioners, or oncologists may be required. These professionals will explain if any rational medical professional would have acted in the same manner under similar circumstances. If not, the doctor's actions or inactions may be considered negligent.
Causation
After a plaintiff has proved that the medical professional's actions were negligent, they must link the defendant's negligence to their injuries. Evidence such as MRI results, prescribed medications, and operational procedures can help determine what caused your injury. A medical malpractice lawyer near Douglasville can gather and analyze such evidence to prove a doctor's reckless actions led to your injury.
Damages
Medical malpractice cases typically result in specific and significant damage. A plaintiff must show that a medical practitioner's negligence led to damages. Considerable damage in a medical malpractice lawsuit can include medical bills, hardship, and disability. The medical malpractice lawyers at Hartley, Rowe & Fowler can help you file a claim in Douglasville, Georgia, to help you secure fair compensation for your injury.
Who Can Be Held Liable in a Medical Malpractice Case?
In Georgia, you may sue a medical professional or an institution for medical negligence. Many patients often assume that their doctor is to blame for medical negligence. This is far from the truth. There are other parties that one can sue in a medical malpractice case, including:
Doctors
Doctors such as general practitioners and surgeons can be held liable for medical negligence. For instance, you may sue a surgeon who operates on the wrong body part, causing delayed treatment of your actual condition.
Hospitals
Medical facilities — both private and public — can be sued if their actions or inactions lead to medical malpractice. For instance, an unsterilized ER room can result in bacterial infections. Similarly, the management of a hospital should conduct background checks and due diligence to make sure they hire qualified staff. You may also sue a medical facility for negligent hiring.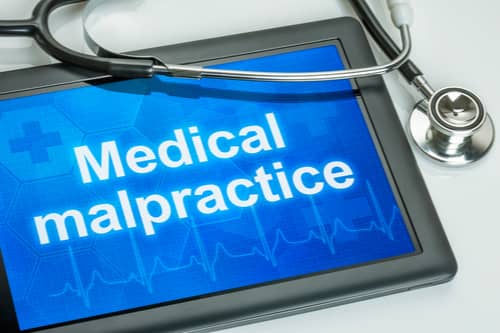 Pharmaceutical Companies
If a drug causes severe harm or even death to you or your loved one, you may sue the responsible drug manufacturer. Drugs should go through FDA approval to ensure their benefits outweigh potential risks. However, some manufacturers may conceal dangerous side effects, risking the lives of patients.
Still, you may sue a pharmaceutical company for improper marketing techniques or defective manufacturing.
Other Healthcare Professionals
You may sue other medical professionals like nurses, paramedics, physician assistants, therapists, and anesthesiologists for damages in a Douglasville medical malpractice claim.
What Damages Can I Get From a Georgia Medical Malpractice Claim?
As a victim of medical malpractice, our Douglasville attorneys can help you recover these damages:
Economic Damages
Economic damages are calculable damages contained in receipts and bills, including:
Lost income
Lost earning capacity
Medical expenses
Non-Economic Damages
Non-economic damages are harder to quantify since they exist in abstract form. They include:
Pain and suffering
Loss of reputation
Inconvenience
Punitive Damages
Punitive awards come into play when the defendant's actions are considered malicious, reckless, or fraudulent. The main aim of these damages is to deter the medical professional or institution from committing similar acts in the future.
What Is Georgia's Statute of Limitations for Medical Malpractice Claims?
Every U.S. state has a statute of limitations for personal injury cases. In Georgia, victims of medical malpractice cases have two years from the date of injury or death to file their claims. You also have two years from the date of discovery of your injury to file a medical negligence claim in Douglasville, GA.
If you delay filing your claim and miss this deadline, Georgia courts will bar you from receiving any compensation. For this reason, it is critical to contact attorneys soon enough for them to build a strong case against the negligent party.
How Can a Douglasville Lawyer Help With Your Medical Malpractice Claim?
If you believe your doctor's medical negligence led to your injury, you may be entitled to compensation. First, you need the opinion of medical professionals and lawyers to advise you if you have a case. At Hartley, Rowe & Fowler, our Douglasville medical malpractice lawyers will examine your case to establish the defendant's fault. Here's how we can help:
Investigation
To prove all four elements in a medical malpractice case, you need knowledgeable attorneys who can extensively go through all the facts of your case to establish liability. Our legal team is prepared to dig through all relevant evidence, including medical records, lab results, treatment procedures, and medications, to unearth any form of medical negligence.
Hartley, Rowe & Fowler has extensive resources and is prepared to consult with medical professionals to have a better understanding of what happened in your medical malpractice case.
Documentation
A medical malpractice case may involve lots of paperwork. Our legal team is prepared to analyze your medical bills, hospital records, home care expenses, ambulance trips, and any other miscellaneous expenses brought about by your injury. We will determine the value of your case and file a claim to recover compensation.
Settlement Negotiation
Insurance companies are always looking for reasons to minimize their payouts. They may conduct investigations into your claim to find any grounds to deny you compensation.
At Hartley, Rowe & Fowler, our job is to make sure that doesn't happen. We will aggressively negotiate with insurance adjusters to ensure you get what you rightfully deserve for your damages.
Representation in Court
Our experienced legal team is ready to move to court to file a lawsuit. We won't rest until we secure a favorable outcome for your claim.
How Much Will It Cost to Hire a Medical Malpractice Lawyer?
At Hartley, Rowe & Fowler, we believe everyone deserves justice after any form of medical malpractice. We understand how victims of medical negligence in Douglasville may have trouble paying their bills after a wrongful or missed diagnosis. During such times, you require the help of a reputable medical malpractice law firm in Douglasville to help you get the justice you deserve.
We operate on a contingency basis. This implies that it will cost you nothing to hire us. We only get paid once we win your medical malpractice claim. You don't have to worry about any upfront fees.
Call Our Douglasville Medical Malpractice Lawyers Today
You and your loved ones don't have to suffer in silence after you suffer harm or damages from a case of medical negligence. A Douglasville medical malpractice lawyer can help answer all your questions and advise you regarding your medical malpractice claim.
Call Hartley, Rowe & Fowler, P.C. at 678-825-6004 today to get started. Our legal team is ready to help you throughout the claims process.