When investing your money in any venture, you should always take all the necessary precautions to protect your investment. When it comes to real estate deals – the most common type of investment across the world, the best way to protect your investment and interests (as a buyer, land developer, or tenant) or your assets (as a seller) is to have a property lawyer at the heart of all your transactions with other parties.
Are you looking to invest in or sell a property in Georgia? If yes, our seasoned Douglasville real estate attorneys at Hartley, Rowe & Fowler, P.C. can assist you. Our firm has been serving clients for over 40 years. Call our Douglasville law office today at 678-825-6004 to schedule a consultation.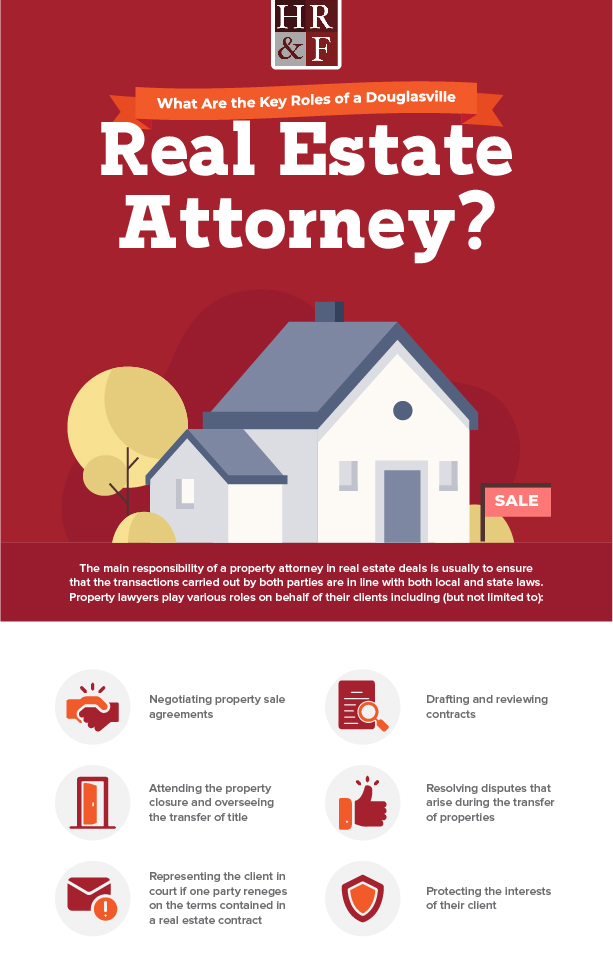 What Are the Key Roles of a Douglasville Real Estate Attorney?
A real estate lawyer is a trained and licensed legal professional who specializes in handling all aspects of transactions that touch on property and land. The main responsibility of a property attorney in real estate deals is usually to ensure that the transactions carried out by both parties are in line with both local and state laws.
Property lawyers play various roles on behalf of their clients including (but not limited to):
Negotiating property sale agreements
Drafting and reviewing contracts
Attending the property closure and overseeing the transfer of title
Resolving disputes that arise during the transfer of properties
Representing the client in court if one party reneges on the terms contained in a real estate contract
Protecting the interests of their client
Who Needs the Services of a Property Attorney?
Selling, buying, leasing, or developing a property is a complicated process that involves a lot of complex legal intricacies. For a proper and waterproof transfer of property and legal ownership rights to occur, detailed contracts have to be crafted and negotiated before being signed by the interested parties. All these steps require a lot of research, legal experience, and, in-depth knowledge of property laws in the area where real estate deal is being carried out – hence the need for a real estate attorney.
Though hiring a property attorney when handling a real estate transaction is not always a legal requirement, it is highly advisable that you seek the representation of a seasoned real estate lawyer if you are a:
Prospective Property Buyer
Purchasing a property – be it an already developed commercial/residential property or an empty lot is an expensive venture, and as such, you should take steps to ensure that you are getting value for money and that you are not hoodwinked by the seller on the state of the property you are about to purchase.
There are many property investors who have lost tons of money simply because they didn't protect their interests from the onset by taking the most important yet simplest step when negotiating a property purchase – hiring a real estate attorney.
Here is why you need an adept real estate attorney at your side all through the property acquisition process:
They will carry out a title search to determine if the seller has a legal right to sell the property.
They will carry out in-depth research to understand if there are any outstanding loans/claims on the property you want to purchase.
They will assess the property inspection report to determine if it is in perfect condition.
They will negotiate with the seller to get you a better deal.
If you are buying the property through financing, they will handle all paperwork and transactions with your mortgage lender.
They will craft a watertight sales contract.
They will attend the property closing and oversee the transfer of title from the seller to you.
Property Seller
Most people think that selling a property is a simple process that simply involves the exchange of cash for a deed – but this is not always the case. As a seller, you have to ensure that your property meets the standards that you have agreed to with the buyer in the preliminary sale negotiations otherwise the buyer can sue you for breach of contract if they later identify hidden defects/problems when the sale contract has already been inked.
Here are some key advantages to hiring a seasoned property attorney when selling your house:
They will ensure that your pre-sale property inspection is thorough and that it meets the requisite legal standards.
They will deal with your mortgage lender if you have any outstanding liens on the property you wish to sell.
They will ensure that you are up-to-date on your property taxes.
They will handle the transfer of ownership documents to the new owner.
They will negotiate on your behalf and mediate any disputes that may arise between you and the buyer during the sales process.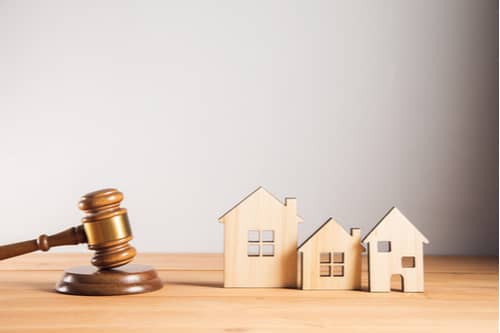 Property Developer
When putting up a commercial or residential property, you will likely spend a lot of your savings and in some cases, you may even borrow huge sums to make your dream of becoming a real estate owner a reality. However, if you are not careful, all your investment efforts can end up down the drain. For example, if you flout zoning laws when putting up a structure, it will most likely get demolished by the authorities leading to massive losses on your part.
A skilled real estate lawyer can help you avoid the pitfalls faced by most unsuspecting property developers in the following ways:
They will help you negotiate favorable lease terms if you are developing land that you do not own.
They will advise you on the applicable zoning laws so that you do not make illegal developments.
They will help ensure that you put up buildings that conform to federal, state, and local laws such as ADA regulations.
They will source the necessary documents and handle the application of any special permits where necessary.
They will handle any disputes that may arise between you and other interested parties who have a say on the progress of your development such as local and state authorities.
They will ensure that you pay the requisite taxes for your upcoming development.
Landlord
As the owner of commercial or residential property for lease, you should never rent out space to tenants without first ascertaining that they are willing to sign a detailed and comprehensive lease agreement. In most states including Georgia, tenants have legal rights. If they are not under contractual obligation to follow certain regulations and live up to specific terms for the duration of their lease, the time they spend on your property can end up being a nightmarish experience.
Here are some key benefits to engaging a property attorney as a landlord:
They will craft detailed and comprehensive lease agreements that contain your obligations and those of the tenant.
They will act as a point of contact between you and your tenants.
At your request, they will handle financial transactions from tenants on your behalf.
They will keep you updated on the tenants' rights that you should uphold.
They will ensure that your property adheres to the applicable housing laws in your locality.
They will handle any disputes raised by your tenants.
Tenant
As a tenant, you have legal rights protecting your stay in any property that you have leased that are enshrined in your state's laws. For example, your landlord cannot just decide to kick you out of your abode while your lease contract is in effect or without any prior warning.
Here are some advantages to having an on-call real estate attorney as a tenant:
They will ensure that your landlord lives up to their contractual obligations such as ensuring that your house is properly maintained
They will protect your tenancy rights and ensure that you are not harassed by your landlord.
In case your tenancy rights are violated, they will sue the landlord on your behalf.
They will act as mediators in case you are at loggerheads with your landlord.
What Are Other Benefits of Hiring a Real Estate Lawyer?
To recap, engaging a real estate attorney can be highly beneficial if you are involved in any deal or you are undertaking a transaction that is property-related in Douglasville, Georgia.
In addition to the specific advantages of engaging a property attorney discussed above, some other benefits of hiring these lawyers include:
You will have better peace of mind when negotiating any property deal.
There is little chance that you will get shortchanged in a real estate transaction.
Any real estate deal you are looking to make will be handled more quickly, efficiently, and to the letter of the law.
Do I Need to Hire a Lawyer for Any Real Estate Deal/Transaction I Make?
Yes! According to Georgia law, real estate transactions/deals especially the closure of a property have to be overseen by a duly licensed real estate lawyer.
How Do I Find the Best Douglasville Real Estate Attorney?
If you are looking for top-notch legal representation in your real estate dealings, we strongly recommend that you find an accredited Georgia real estate lawyer who fits the following bill:
They should specialize in real estate law.
They should have extensive experience representing clients in property transactions.
They should be accessible and always ready to pick up your calls.
They should be knowledgeable on emerging property laws and regulations.
They should be highly adept negotiators.
They should have a proven track record of winning home runs for their clients in court battles.
If you are looking for a highly skilled and seasoned Douglasville real estate lawyer who fits this bill, look no further than the last firm of Hartley, Rowe & Fowler. Our property attorneys espouse and personify all the values we have discussed above which means that you can rest assured that your legal rights and interests will be protected in all real estate dealings that you undertake. Our experience and the wins we have recorded for our past clients are testaments to our legal skills and proficiency.
To set up an appointment with one of our top-tier Douglasville real estate attorneys, just dial 678-825-6004 today.