In the legal context, a person's estate is the total sum of their assets minus any liabilities. This includes anything from real estate, art collections, houses, vehicles, legal rights to insurance and investments. Normally, when a person dies, their assets are passed along to heirs and beneficiaries as per the state's requirements and the wishes of the decedent. Probate is the legal process of authenticating the validity of the decedent's will (in case there is one) and approving the executor of the estate.
In cases where there is no will, the court will make decisions on behalf of the decedent. If you are handling the distribution of a decedent's estate or have been named the executor of a decedent's estate or a beneficiary, a Douglasville probate lawyer can help you to smoothly get through the probate process and also provide effective representation in case of any legal disputes that may arise in the process.
A probate attorney plays many roles including advising the parties involved on various legal matters, identifying as well as securing all the assets of the decedent, assisting in the payment of debts, filing all documents required by the probate court, identifying any owed estate taxes, and so on. This is why you need a probate lawyer involved when working to settle a decedent's estate.
Get in touch with our experienced Douglasville probate attorneys at Hartley, Rowe & Fowler at 678-825-6004 to get started.
Estate Planning
Disputes are bound to arise when it comes to the distribution of a decedent's assets. This is especially so when there is no will. But through proper estate planning, you are able to take control of what happens to your assets once you pass away or become incapacitated.
Estate planning mainly involves, among other things, preparing a will or setting up a living trust. Estate planning not only helps to ensure that your wishes are granted when you are no longer around, but it will also help to minimize the chances of a dispute.
Call our Douglasville law firm to get in touch with an experienced estate lawyer.
Wills
When thinking about estate planning, the first thing that most comes to mind is a will. It is considered the centerpiece of an estate plan. A will is a legally enforceable document that lets you specify how your assets will be handled upon your death. It allows you to name beneficiaries and the assets they will receive.
You can count on our will and estate lawyers to help you create a will that satisfies all the legal requirements in Georgia and thoroughly outlines your wishes for your estate.
Trusts
A trust is a legal arrangement whereby one party (grantor) gives another party (trustee) the right to hold or manage certain properties for the benefit of a third party (beneficiaries). Trust, unlike, wills, allow for the automatic transfer of ownership to beneficiaries without going through the probate process.
Probate and Estate Administration
Once a person dies, there is a legal process that follows to ensure that their assets are properly distributed and don't go unclaimed. Probate and estate administration are different aspects of this process. Probate is the legal process in which a specifically-named individual seeks the legal right to handle a decedent's estate. Estate administration is the process by which the executor of the estate handles all matters that culminate in the settling of a decedent's estate.
This includes accounting for all of the decedent's assets, paying off debts and taxes, and ensuring the proper distribution of assets. Probate and estate administration can be complex, stressful, and very time-consuming. Our skilled Douglasville probate lawyers have extensive experience helping clients settle the affairs of a deceased loved one.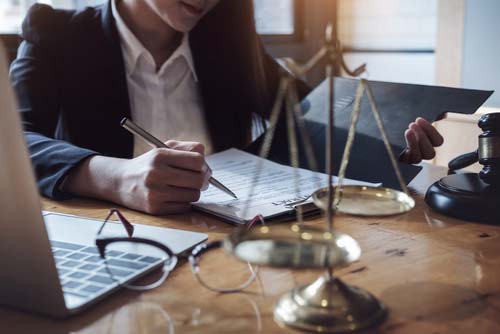 Probate and Estate Litigation
Disputes are quite common when it comes to probate and the handling of a decedent's estate. Issues may arise in regards to trusts, estate, and probate matters. Our attorneys work with estate executors, heirs and beneficiaries, personal representatives, and fiduciaries to resolve matters to do with will or trust disputes, financial elder abuse, investment mismanagement, fiduciary misconduct, abuse of power of attorney, and so on.
Will Contests
Will contests are some of the common types of probate and estate litigation. In property law, a will contest is a legal dispute raised by a party that objects to the validity of a will. Will contests are often raised based on the belief that the will in its current state doesn't reflect the actual wishes of the decedent.
There are various grounds upon which a will may be contested including fraud, failure to meet the necessary formalities, lack of capacity, or undue influence. If the testator was suffering from dementia, Alzheimer's disease, or any other mentally incapacitating illness when the will was executed, this may serve as legitimate grounds to challenge the will.
Also, if the will wasn't properly signed or witnessed, you can bring forth a will contest. For example, for a will to be valid, it must be signed by two witnesses in the presence of the testator after witnessing the testator sign the will. In addition, the two witnesses need to be of a certain age and shouldn't be among the beneficiaries. If there are disputes in regards to any of these aspects, our lawyers can help you to successfully contest the will.
Guardianships and Conservatorships
For one reason or another, an adult may become incapacitated and may need a probate guardian. Under Georgia law, there are two kinds of guardianship. The first type is guardianship of the individual person, and the second one is a conservatorship, which is guardianship of the person's property.
While spouses and blood relatives are usually given the primary priority when it comes to who should be appointed as a guardian or conservator, a third party with no conflict of interest can also apply to be one. If you are looking to set up a guardianship or apply for a conservatorship in Douglasville, our attorneys at Hartley, Rowe & Fowler can help you get this done.
Get in Touch With an Experienced Douglasville Probate Lawyer
Dealing with the loss of a loved one can be incredibly devastating. Things only get more overwhelming when you are tasked with the responsibility of managing the decedent's estate. However, you don't have to bear this burden alone.
Our competent Douglasville probate lawyers are prepared to provide the necessary assistance. We will guide you through the probate process and help you deal with any legal matters that may arise during the process.
Give us a call today at 678-825-6004 to talk to an estate lawyer at Hartley, Rowe & Fowler.