Our Carrollton car accident lawyers at Hartley Rowe & Fowler understand that getting into an auto accident can be one of the most traumatizing and devastating experiences. We know that accidents are not uncommon, but no one gets on the road expecting to be the next victim.
Drivers have the responsibility to be cautious while on the road to avoid accidents. That is why when a motorist acts in a careless, negligent, or reckless manner, the victims have the right to seek monetary compensation.
If you or a loved one has been hurt in an accident caused by the negligent actions of another party, you have the right to file an auto accident claim. The unforeseen expenses resulting from the accident may have significant implications for you and your family.
Life can instantly become challenging, especially if the victim was the breadwinner. However, claiming for damages is no walk in the park, especially if you don't have experience in personal injury law.
In order to protect your rights and obtain fair compensation, it's best to seek the help of a skilled and experienced Carrollton personal injury lawyer. Hartley Rowe & Fowler is committed to helping Carrollton auto accident victims to seek the justice they are entitled to.
We have been in the industry for over four decades, handling all kinds of personal injury cases including car accidents. Personal injury law can be complex, but with our help, you and your loved ones can see the compensation you deserve. Reach out by calling our offices at 678-825-6004 today!
Car Accident Statistics in Georgia
If you have sustained an injury in a car accident in Carrollton, by no means are you alone. According to the NTSA, every Georgia will get into an auto accident every 10 years. That's because on average, over 1720 motorists get involved in accidents every day. This translates to 70 drivers per hour.
What Should I Do Following a Car Accident?
What you do right after a car accident will play a major role in determining the outcome of your claim. As such, you'll want to do the following:
Call the Police
It is important to report the accident to the relevant authorities. The police are essential in determining and recording the party at fault. They also help maintain order in such an incident, so ensure this is the first thing you do.
Check on the Other Party
The other people involved in the accident may have been injured. If you have the ability, get out of the car and check on them to make sure they are safe.
Record the Scene
If possible, you'll want to take photos and videos of the accident scene, damages, and injuries. This will come in handy when it's time to validate your lawsuit.
Exchange Information
According to Georgia's personal injury laws, motorists are expected to exchange relevant information following an auto accident. This includes full names, contact information, driver license number insurance details, vehicle registration number, etc. Bear in mind that this has to be done in a respectful and peaceful way.
If the other party refuses to share this information, wait for the authorities and then ask for the information.
Never Admit Fault
Do not admit fault or apologize even if you feel you are to blame for the collision. Fault for an auto accident is determined after a thorough investigation and jeopardizing your case is the last thing you want.
Seek Medical Assistance
It's imperative to seek medical assistance even when you do not feel hurt. Some injuries can like whiplash can take a long time to manifest, especially due to the adrenaline rush. Ensure you have the injuries documented by a licensed doctor.
This is not to just determine hidden injuries, but to keep a record of treatments to claim compensation for when it comes to making a claim.
Call a Carrollton Car Accident Lawyer!
When it comes to any personal injury case, it's imperative to consult a skilled and experienced car injury lawyer as early as possible. Experienced car accident attorneyswill help you file a claim as per the law and ascertain your rights are protected. In addition, the other party is bound to take the lawsuit more seriously with a lawyer present.
How Much Is My Case Worth?
Auto accidents differ widely and so do the settlements. It's impossible to tell you how much your claim is worth until you get a case review which is free when you consult Hartley Rowe & Fowler. However, we can tell you a few factors that can affect the value of your claim. These include:
Ongoing medical care and bills
The severity of the injury
Accident-related impacts on your life, ability to work, and relationships.
It is unwise to decide what your claim is worth before consulting a legal team. Chances are there could be aspects of the case you forgot to include that could increase the settlement amount.
Why Hire a Carrollton Car Accident Attorney?
Seeking legal assistance gives you the best chances of succeeding in the lawsuit. An auto accident attorney will be able to help you in the following aspects:
Case Preparation & Filing a Lawsuit
After you reach out to Hartley Rowe & Fowler, our team of lawyers will immediately get on your case by doing a thorough investigation and gathering all the required evidence to make a solid case. Our legal team will be able to figure out the value of your case and establish liability by working with other experts.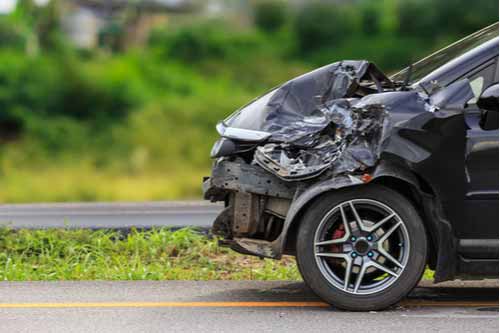 Compensation Negotiations
Before your claim makes it to court, your car injury attorney will try to reach a fair compensation agreement with the liable party. Our team has vast experience in negotiations and once we figure out how much your case is worth, we will utilize our skills and resources to ensure you do not get anything less than what you're entitled to.
Trial Preparation & Representation
If both parties can come to an agreement on the settlement, your auto accident attorney will take your case to a court of law. They will prepare your lawsuit and ensure they have the necessary evidence to prove liability. By working with our team, you can be certain that we will aggressively fight for your rights and work within our means to ascertain a fair outcome.
What Types of Damages Can You Recover?
In Georgia, valid auto accident claims allow you to recover the following forms of damages:
Economic Damages
Also referred to as special damages, economic damages entail the monetary losses experienced due to injury. These include lost wages, medical expenses, cost of auto repairs, loss of earning capacity, etc.
Non-Economic Damages
These reward you for the intangible losses suffered as a result of injuries. This includes loss of companionship, pain & suffering, emotional distress, etc.
Punitive Damages
Punitive damages are rarely awarded, but arise when the liable party was grossly negligent, leading to severe injuries and/or death. These types of damages are intended to punish the offender while discouraging others from similar acts.
How Is Liability Determined in Georgia?
Georgia follows a comparative negligence principle in regard to auto accidents. Typically, we follow a rule known as modified comparative fault, meaning that a car accident victim can only get compensated if the court finds the person was no more than 49 percent responsible for the incident. If you are 50% or more liable, you're not entitled to compensation.
The following aspects have to be considered in order to determine liability:
Duty of Care: In this aspect, the party liable for the incident owed a duty of care in what led to the accident.
Breach of Duty of Care: You also need to show that the other party breached the duty of care. This is usually a failure to do what a reasonable person would do in such a situation.
Causation: Next, you need to prove that injuries and losses incurred were a direct result of the actions of the other person or entity.
Damages: Finally, you need to show that the accident resulted in losses or damages.
How Long Do You Have to File a Car Accident Claim in the State of Georgia?
The statute of limitations for auto accidents in Georgia is two years from the date of the incident. This provides adequate time to recover before filing a lawsuit.
What Should I Do If the Insurance Company Denies My Claim?
This is not unheard of. Insurance companies will try every tactic to avoid making settlements for auto accident claims. Luckily, our team has been in the industry for years to notice this habit and how to fight it to ascertain justice is served. No uncalled-for damages and injuries should come at the cost of an insurance company's profit.
Hire a Carrollton Car Accident Lawyer Today!
If you or a family member has experienced an auto accident in Carrollton that left them injured, you might be stressed, overwhelmed, and confused. However, you do not have to carry the burden of another party. Seek the settlement you are entitled to by making an auto compensation claim through our help. Simply reach out to Hartley, Rowe & Fowler, P.C. by calling 678-825-6004 today!