The pace of business today demands that business owners have experienced and responsive legal counsel to spot risks down the road and guide them through the labyrinth of operational and legal issues. For over four decades, Hartley, Rowe, & Fowler business law attorneys have worked with privately and publicly held companies in various industries to develop sound strategies, simplify complexities and steer around current barriers.
We take pride in our track record of achievement derived from our dedication to understanding clients' businesses and the regulatory and competitive environment they run. Combining this commitment, knowledge, and decades of experience, we deliver counsel that is responsive to your business' needs and on target with your vision and goals.
The experienced and skilled Douglasville business law attorneys at Hartley, Rowe & Fowler can serve as general counsel for your business, working to streamline processes to create an efficient and profitable business. Whatever hurdles your business is facing, we can help you overcome them; and whatever your corporate goals are, our team can help you make them a reality. Call our Douglasville, Georgia law firm today at 678-825-6004 for your initial consultation.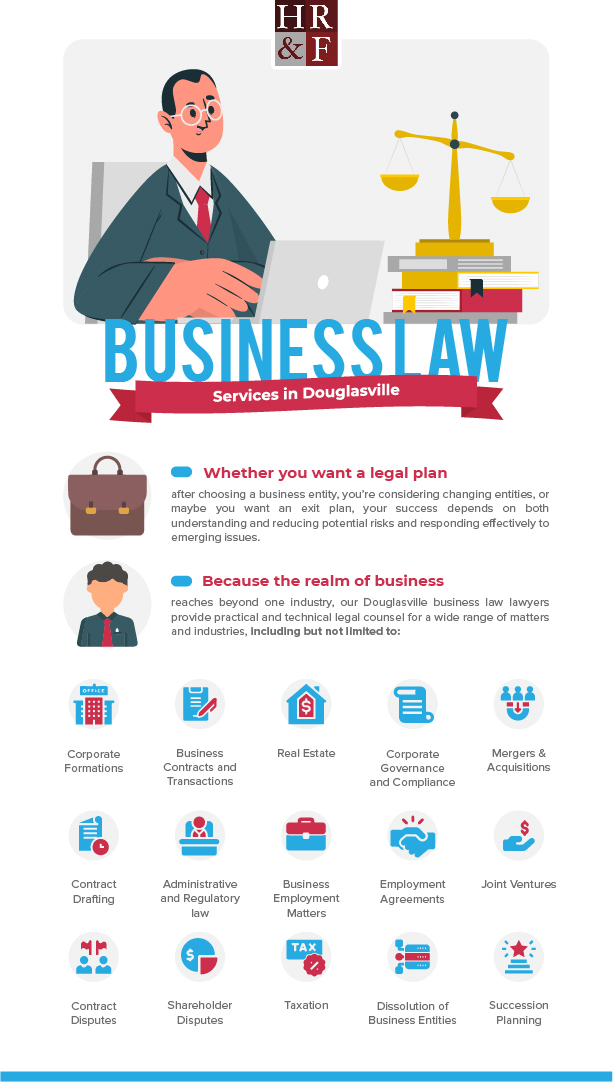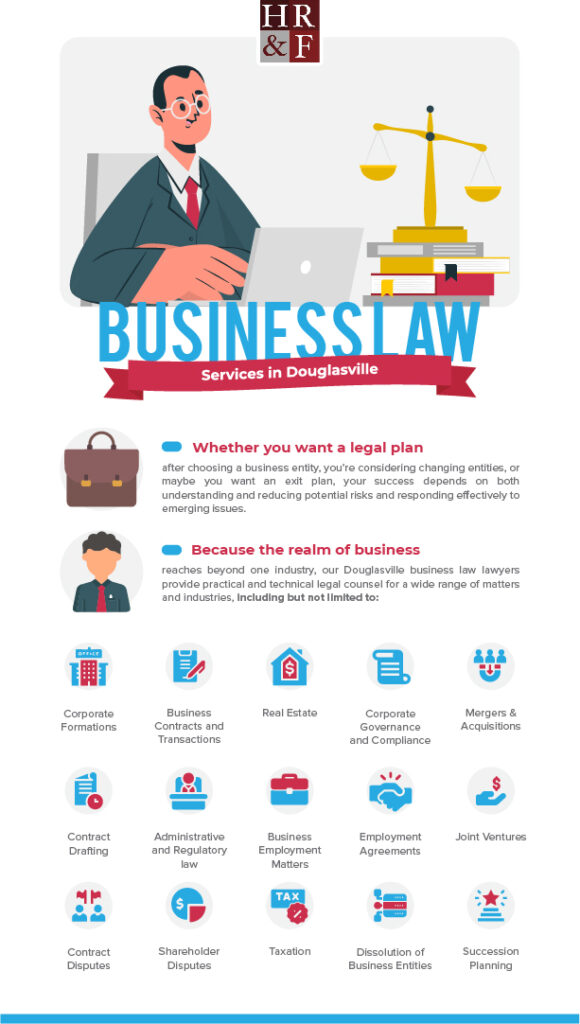 Business Law Services in Douglasville
Businesses are the moving force of the Georgia economy and the dream of many residents. Douglasville business law lawyers at Hartley, Rowe & Fowler are ready to provide comprehensive business law services to business owners.
Whether you want a legal plan after choosing a business entity, you're considering changing entities, or maybe you want an exit plan, your success depends on both understanding and reducing potential risks and responding effectively to emerging issues.
Because the realm of business reaches beyond one industry, our Douglasville business law lawyers provide practical and technical legal counsel for a wide range of matters and industries, including but not limited to:
Corporate Formations
Business Contracts and Transactions
Corporate Governance and Compliance
Mergers & Acquisitions
Contract Drafting
Administrative and Regulatory law
Business Employment Matters
Employment Agreements
Joint Ventures
Contract Disputes
Shareholder Disputes
Taxation
Dissolution of Business Entities
Succession Planning
Industries We Serve
Our client base covers a variety of industries, including but not limited to:
Fashion
Branding and Marketing
Cosmetics
Advertising
Biotechnology
Manufacturing
Medical
Distribution
Food and Beverage
E-Commerce
Technology
And many others…
To meet your needs, our Douglasville business law attorneys specialize in a wide range of legal areas and industries and harness the knowledge and experience of all the attorneys at Hartley, Rowe & Fowler. Together, we form a mighty force that supports and represents businesses in Douglasville and throughout Georgia.
Employment Law & Employee Matters
Once your business has employees, it must comply with local, state, and federal employment laws. Besides, these laws are constantly changing, and failure to stay up-to-date could result in additional litigation.
The business law lawyers at Hartley, Rowe & Fowler work extensively with all business owners – from small business owners to executives with multi-national Fortune 500 companies – helping them to understand and comply with applicable employment laws.
The realm of employment law is incredibly vast and covers a wide range of potentially challenging situations. An experienced Douglasville business law attorney will be able to provide reliable assistance in the following areas:
Preparation and review of employee offer letters, handbooks, employment contracts, and other documentation necessary for hiring and managing employees
Proper classification of employees
Defense of employment litigation
Employee relations
Employee disputes
Non-solicitation and non-compete agreements
Workplace investigations
Employee separation and severance agreements
We take time to understand your business and its unique challenges regarding employment law.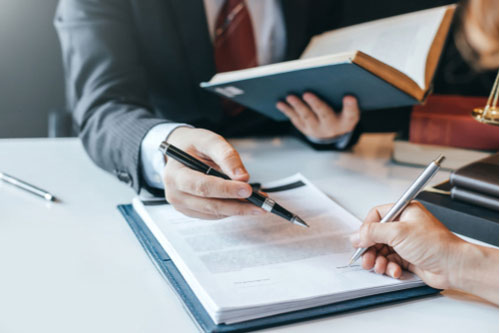 Business Start-Ups
A new business should start with the right move. The business law attorneys at Hartley, Rowe & Fowler help entrepreneurs organize and form new companies set up for success. Our team advises business owners and their CPAs in selecting the proper business entity that makes the most sense and can assist the company in becoming more tax-efficient and better positioned for future growth.
Hartley, Rowe & Fowler's attorneys strive to educate Douglasville business owners on the risks associated with sole proprietorship and the benefits of short and long-term business plans.
In addition to helping entrepreneurs start their businesses, we can assist with contract drafting, contract negotiations, contract reviews, and other business start-up needs. Our business start-up areas of focus include:
Choosing an appropriate legal structure (e.g., C-corporation, LLC, S-corporation, partnership)
Drafting internal governing documents (e.g., partnership contracts, by-laws, operation agreements)
Tax planning
Employment law
A correctly set up, structured, and well-maintained business can minimize the tax impact on your business' revenue, shield you from personal liability, and provide flexibility when you need to solicit investment to grow your company.
Mergers & Acquisitions
Corporate issues will arise as your business expands. For instance, membership can change through mergers, or a business may be sold via asset sales. Our team can help business owners and purchasers to prepare and negotiate agreements with potential business partners, service providers, vendors, and independent contractors.
When you need capital for an acquisition, we can provide guidance and funding options such as stock purchase agreements, debt, venture capital, convertible notes, and other financing contracts. We can assist you with the following aspects:
Contracts for sales and purchase
Due diligence
Letters of intent
Business valuation
Initial negotiation
Regulatory compliance
Drafting acquisition agreements
Closing and post-closing activities
Business succession planning
Contact Our Douglasville Business Law Attorneys
Business owners cannot afford to make expensive mistakes. Experienced legal counsel can help business owners protect their businesses and plan their way around those mistakes to keep their businesses growing and thriving.
For decades, Hartley, Rowe & Fowler has helped business owners make legally sound decisions that are strategic, effective, and proactive. Our Douglasville business law attorneys work closely to provide a client-tailored approach that spans several industries and practice areas. Knowledgeable about employment law, resolution of business disputes, and real estate, we counsel our clients regarding these and other relevant issues. With our vigilant and well-versed direction, you can feel confident operating, managing, buying, or selling a business.
Call 678-825-6004 to schedule a consultation.