Accidents involving motorcycles tend to be devastating and often leave those involved with serious, life-changing injuries. While motorcycle riding has its risks, most accidents are caused by negligent drivers. If you've been hurt in a motorcycle crash that wasn't your fault, you deserve compensation for your pain and suffering.
If you would like to ensure that you receive the compensation you deserve, then what you need is the help of a professional Douglasville motorcycle accident lawyer. At Hartley, Rowe, and Fowler, we are ready to put our skills and experience to work for you.
Our personal injury lawyers in Douglasville, GA are here to fight for your rights after a devastating motorcycle crash. While the insurance company might view you as just a number, to us, you are a valuable member of the community and deserve compassion and compensation for your injuries and suffering.
To schedule a free-of-charge, no-obligation consultation with one of our experienced motorcycle accident attorneys, get in touch with us today by calling 678-825-6004.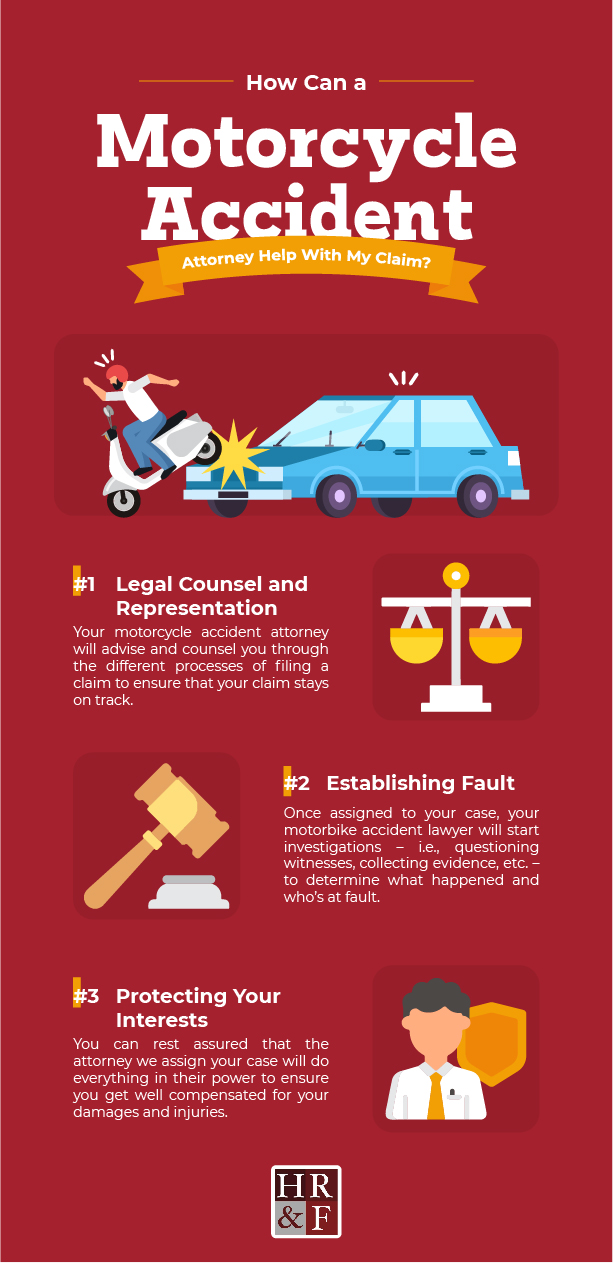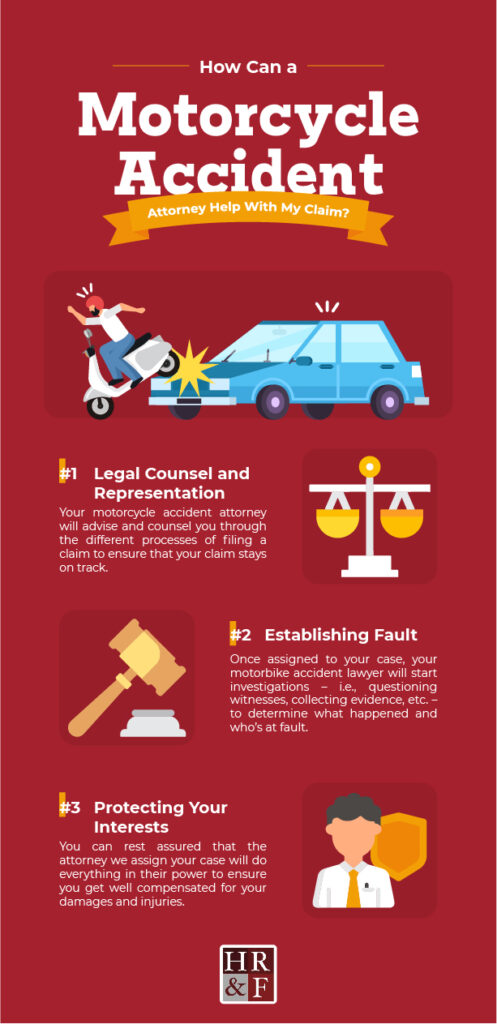 How Can a Motorcycle Accident Attorney Help With My Claim?
Having your compensation claim handled by an experienced motorcycle accident attorney could increase your chances of receiving a more substantial settlement than if you filed a claim by yourself. When you choose Hartley, Rowe, and Fowler, P.C. to represent you, we will assign your case to a professional Douglasville motorcycle accident lawyer with the skills and experience needed to ensure that you get well compensated for your injuries and damages.
Here are some of the ways a motorcycle crash lawyer can help with your claim.
Legal Counsel and Representation
We will provide the legal representation and counsel you need to effectively pursue a motorcycle accident claim. While you have every right to seek compensation for injuries and damages sustained, the process can be difficult to navigate alone and typically involves filing various legal documents and forms.
Your motorcycle wreck lawyer will advise and counsel you through the different processes of filing a claim to ensure that your claim stays on track.
Establishing Fault
Determining who is at fault in a motorcycle accident can be hard since most drivers are not willing to admit that they caused the accident. Once assigned to your case, your motorcycle accident attorney will start investigations – i.e., questioning witnesses, collecting evidence, etc. – to determine what happened and who's at fault.
Protecting Your Interests
You can rest assured that the motorcycle crash lawyer we assign your case will use their legal knowledge and skills to protect your interests and rights as an accident victim and will do everything in their power to ensure you get well compensated for your damages and injuries.
How Do Many Motorcycle Accidents Happen?
Riding a motorbike has a greater share of risks and hazards than driving a car since riders aren't protected by the vehicle they're operating. And while that's the case, there are a couple of scenarios that are considered to be the top causes of motorcycle accidents in the country. They include:
Distracted driving
Road hazards
Drunk driving
Faulty lighting, brakes, or mirrors
Left-turn intersections
Car doors opening
Failure to pay attention to other motorcycles
Unexpected pedestrians in the road
Rear-end collisions
Improper or unsafe lane change
Georgia Motorcycle Accident Statistics
According to Georgia's Highway Safety statistics, the number of motorbike crash fatalities in the state has increased over the last three years with studies showing that it may continue to rise. In 2019, the number of motorcyclists who suffered fatal injuries was 170 – a 22 percent increase from 139 fatalities in 2017. In the same year, there were over 1,940 motorbike crashes and approx. 84 fatalities for 100,000 motorcycles registered.
It's worth noting that 63% of all motorbike accidents in the state involved several vehicles while 37% were single-vehicle crashes. Personal cars were the most common type of vehicle involved in accidents with riders – 93%. 60% of all motorcycle riders involved in crashes sustained serious injuries while 70% of all fatalities occurred in crashes involving multiple vehicles.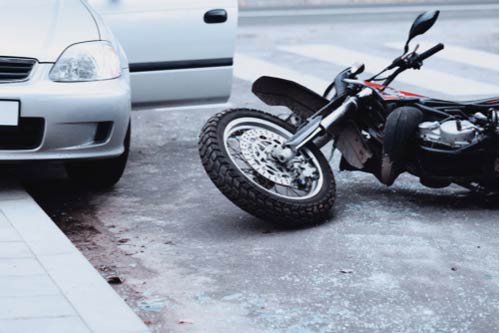 What Are Some of Georgia's Motorcycle Laws?
As a rider, it's your responsibility to obey traffic laws and be conscious of other road users. The state of Georgia, much like most other states in America, has several motorcycle-specific laws that everyone who rides a motorbike must follow. They include:
Motorcycle users aren't allowed to share lanes. In Georgia, it is illegal to ride side-by-side on the same lane.
Riders traveling at speeds greater than 75mph are considered 'super speeders' and are subject to pay a $200 fine.
As per Georgia law, motorbike riders – and that includes passengers – must have a helmet on at all times. Furthermore, the helmet worn must be compliant with Georgia's Department of Transportation standards.
Riders are required to wear protective eye gear – i.e., helmet visors, goggles, etc. – at all times. Alternatively, they should have a windshield installed on their bike.
Unfortunately, even the most experienced and conscientious motorbike riders are still vulnerable when sharing the road with big rigs, cars, and trucks.
What Are the Most Common Motorcycle Accident Injuries?
Since motorcycle users are more susceptible to the dangers and hazards of the road, the injuries riders sustain most of the time tend to be catastrophic, and in some cases, fatal. Some of the most common injuries sustained by motorbike riders include:
Road rash
Internal injuries
Broken bones and fractures
Lower-extremity injuries.
How's Fault Determined in a Georgia Motorcycle Accident?
Under Georgia's modified comparative negligence law, you can only receive compensation if the other party was more at fault for the accident than you were. If, after an investigation, it is determined that you're 50% or more responsible for the crash, you will not recover any financial damages.
If the courts or the insurance company, on the other hand, resolve that you were partially responsible for the crash up to 49%, then you might be eligible to recover financial damages. However, it's worth noting that the money awarded in damages might be lowered by your percentage of the blame.
To increase your chances of getting maximum compensation for your injuries and damages, you must compile sufficient evidence to prove damages and liability. This may include:
Witness testimony of what happened
Medical records proving the extent of injuries sustained and which show that your injuries were the result of the accident and not a preexisting medical condition
Expert testimony from specialists who can reconstruct what happened during the accident.
Photos of the road condition when the crash happened including warning signs, skid marks, construction, traffic lights, bad weather, etc.
Video footage of the crash, whether from surveillance cameras or witnesses.
Photos of injuries and damage to your motorbike and other property (including other vehicles) near the scene, along with the gear you had on when the accident occurred.
The official police accident report.
Articles or reports that show manufacturer defects for the bike or other vehicles. Proof of defects could provide sufficient grounds to file and pursue a product liability claim.
Phone records proving that the other driver was either talking, texting, posting on social media, or sending an email right before the accident happened.
Statements from other road users involved in the crash.
An evaluation of your motorcycle's damages and the cost to repair them.
Proof of your income and an estimation of pay you lost while you were recuperating from the injuries sustained during the accident.
Gathering all the evidence required to support your compensation claim can be a complicated and time-consuming process, which is why you are advised to seek the help of a professional motorcycle accident lawyer.
Since our law firm in Douglasville, GA has handled hundreds of similar cases over the years, all of our attorneys have the skills, experience, and knowledge needed to craft a rock-solid case and ensure that you get aptly compensated for your damages and injuries.
When you choose Hartley, Rowe, and Fowler, P.C. to handle your motorbike accident claim, we take over your case and do all the leg work so you can spend more time focusing on what is most important – recovering from your injuries.
What Types of Motorcycle Accident Compensation Can I Receive?
Considering how serious some of the injuries motorbike wrecks cause can be, you need to take the time to consider how much money you will need to cover the cost of care and the long-term consequences of your injuries.
The Douglasville, GA motorcycle accident attorneys at Hartley, Rowe, and Fowler, P.C. are your best bet if you are looking to get compensation for your damages and injuries. As your legal representative and advisor, we'll aggressively pursue your claim.
Economic Damages
These damages cover the cost of your treatment, recovery assistance, medical diagnosis, and physical therapy. They also cover losses whose financial value can be determined and lost wages.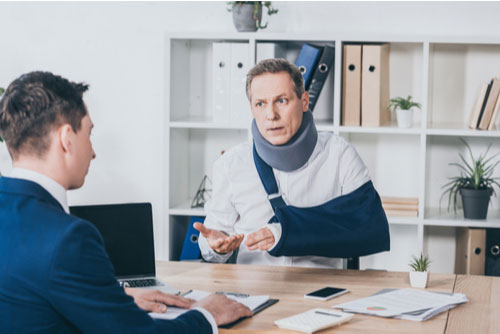 Non-Economic Damages
These damages cover losses you've incurred but whose financial value cannot be determined or that do not have a specific value like physical disfigurement, paralysis, and others. While seeking non-economic damages is often quite difficult, our lawyers are committed to making sure that the courts understand how your injuries and damages have impacted your life and why the responsible party must be held accountable.
Punitive Damages
We normally take this path if, after conducting some investigations, we determine that the accident was a result of negligence on the part of the other party. Seeking punitive damages isn't easy and is something that will require sufficient evidence and leveraging all the resources we have at our disposal.
Why Are Motorcycle Accident Claims Denied?
Sometimes, motorcycle accident claims get shot down by insurance companies due to a variety of reasons. Here are some of the top reasons why your motorcycle accident claim might get denied.
Your Policy Was Canceled or Lapsed
Your motorcycle accident claim might get denied if your policy has lapsed or was canceled. When that's the case, your insurance provider cannot be held liable for losses or damage caused during the accident.
You Weren't Insured
Your accident claim could also get denied if you were not insured. Furthermore, if the person responsible for causing the accident was not covered by their policy, you probably won't receive compensation for your damages.
You're Partly to Blame for the Crash
If, during your trial, the jury concludes that you are 50% or more to blame for the crash, then rest assured you will not receive any compensation and will have to cater for the cost of your damages and losses yourself.
You Did Dot Sustain Any Injuries or Can't Prove Causation
Your claim might also get denied if it is determined that you did not sustain any injuries during the crash. Your claim could also be denied if you cannot prove that the injuries you sustained are a result of the accident.
Are There Time Limits to Filing a Motorcycle Accident Claim in Georgia?
If you've been involved in a motorcycle accident and are thinking of filing a compensation claim, then please note that you have limited time to file the claim. According to Georgia law, motorcycle accident victims have two years from the day the accident happened to file.
And while that's the case, there are some instances where circumstances shorten the time you have to file for compensation like when filing a claim against a state or federal government agency. Filing a compensation claim in good time will always be in your favor as it becomes a lot harder to conclusively determine what happened in your crash when time has passed. Remember, the sooner you have an experienced Douglasville attorney working on your case, the better.
Get in Touch With a Professional Douglasville Motorcycle Accident Lawyer Today!
At Hartley, Rowe, and Fowler, P.C., we have years of combined experience when it comes to representing people who've been hurt in motorbike accidents in Georgia. We know how to get the results you want to see and are committed to helping you pursue the fair compensation and justice you deserve. Dedication, experience, and a good knowledge of insurance laws are what our lawyers bring to each case we handle.
If you have been injured in a motorcycle crash in Douglasville, do not let insurers arm-twist you into accepting an unfair settlement. Get in touch with us today and let us help you review your case to determine the best way forward during a free-of-charge, no-obligation consultation.
We offer our services on a contingency fee basis, meaning that you do not owe us a single cent until/unless we get you compensated for your damages. Need help with your motorbike accident claim? Call 678-825-6004 now to speak to a professional Douglasville motorcycle accident lawyer.