The cost of hiring a motorcycle accident lawyer is a crucial factor in recovering compensation. For most people, it determines whether they will employ a Douglasville motorcycle accident lawyer or represent themselves. Hiring a lawyer has many benefits, but how much will it cost you?
Hiring an experienced motorcycle injury lawyer will cost a reasonable amount of money, depending on different factors. But, the cheering news is you won't have to pay any initial costs to hire an attorney.
Motorcycle accident lawyers will pursue compensation on your behalf without demanding lawyer fees with the contingency fee structure. This article discusses how much you'll pay a lawyer, focusing on the contingency fee agreement.
What Is the Contingency Fee System?
Lawyers take on personal injury clients using the contingency fee payment structure. A significant implication of the contingency fee system is that your lawyer won't get paid if you don't. Therefore, before your attorney begins the claims process, they will present a contingency fee payment plan detailing the dynamics of your payment.
For example, a frontline consideration of the payment plan is deciding the portion of your potential compensation that belongs to your lawyer. Your attorney's part is expressed in percentages. Generally, lawyers in a contingency fee system will charge 30% to 40% of your compensation amount.
Most Douglasville motorcycle accident attorneys take 33.3% of your compensation. However, this percentage isn't set in stone as not all cases will demand up to one-third of your settlement.
What Determines a Douglasville Motorcycle Accident Lawyer's Percentage in a Contingency Fee Structure?
Every case isn't the same. Some are less severe, will last for a shorter time, and require less work than others. Therefore, your contingency fee payment plan may allocate less than 30% of your settlement to your personal injury lawyer. Your lawyer may take as low as 20% to 25% in such a case.
There are two stages in a motorcycle accident claims process where you can win compensation. The first possible point of compensation recovery is at the negotiation stage. This is when your lawyer presents your case before the at-fault driver's insurance company. If your claim succeeds at the negotiation stage, your lawyer's job ends, and they get paid.
However, not all cases end up at the negotiation table. Negotiations may fail, and your lawyer may seek redress in court. They will file a lawsuit, secure a hearing date, and represent you in the courtroom. A case that gets to litigation will require more work and take more time.
Before your lawyer drafts a contingency fee agreement, they must have first determined the level of complexity of your case. If a lawyer predicts that your case will progress to the lawsuit stage, their payment percentage will fall into the 30% to 40% range.
However, if your lawyer predicts a negotiated settlement, their payment percentage will typically fall below 30%. Note that your lawyer receives the compensation and deducts their fees before sending the rest.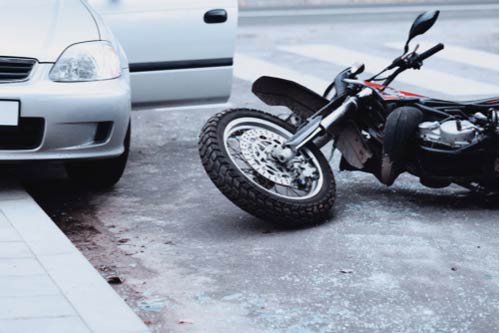 Are There Other Lawyer Fee Payment Systems?
Asides from the contingency fee payment system, there are other alternatives. There is the hourly payment system and the flat fee payment system. These fee payment systems will see the client pay lawyer fees whether or not they recover compensation.
The Hourly Payment System
In this payment system, an attorney gets paid for every hour they work. Although quite rare, a Douglasville motorcycle accident lawyer could charge per hour.
The hourly payment system works best for motorcycle accident cases where the lawyer is uncertain about the duration of the case. Personal injury lawyers could charge anything from $100 to $500 per hour.
Douglasville lawyers set individual hourly payment rates according to the peculiarities of every case. Other factors that affect hourly rates include the lawyer's availability, experience, and track record.
The flat fee payment system requires the lawyer and the client to agree on an overall cost before they begin working on your case. If you decide to pay a flat fee, you will pay it upfront.
What Other Costs Affect Compensation?
The are other expenses a lawyer factors in even with the contingency fee payment system. They include:
Your lawyer could be the one who will help request your medical records. However, you will need to pay for the cost of this process.
Hiring an expert witness costs money. The fee depends on the caliber of the witness and the kind of testimony.
If your case goes to litigation, your lawyer will apply for a court hearing by filing your lawsuit. Filing a claim in court attracts several fees.
To back up your claims and tell the story of the crash, your lawyer will require a police report, which also attracts costs.
Your lawyer may not be skilled or experienced enough to conduct a proper and thorough investigation. Therefore, they may require the services of private investigators.
There is also the court reporter, transportation, and postage fees. Depending on your agreement, your lawyer's fees could include or exclude these expenses. If your lawyer's percentage excludes these expenses, you can agree to pay for them before the lawyer takes up your case.
What Compensation Can My Lawyer Recover From a Motorcycle Accident Injury Case?
Your attorney will ask for both economic and non-economic losses for your compensation to capture your losses entirely. While economic losses have calculatable amounts, non-economic losses are difficult to quantify financially and likely emerge from estimation.
The two covers:
Medical expenses
Current costs of treatment
Estimates of future medical expenses
Lost wages
Loss of future earnings
Damage to property
Pain and suffering
Call HRF Legal Now to Speak With a Douglasville Motorcycle Accident Lawyer
Have you suffered an injury in a Douglasville motorcycle accident? Then you deserve compensation. Act now to take advantage of the two-year window the law allows to file your case. Georgia law bars courts from entertaining claims made beyond two years from the accident date except in rare cases.
Therefore, contact a motorcycle accident lawyer immediately after the crash. At HRF Legal, our legal team has the experience and legal knowledge to help you get the maximum compensation from the at-fault party.
We will ensure that you get nothing less than what you deserve. Our approach to compensation recovery is result-driven, thorough, and aggressive because we know what's at stake. So give us a call to speak to an injury lawyer in Douglasville, Georgia. We work on a contingency fee basis.