One bad decision on the road by another motorist could change your life forever. A car accident can not only total your car, but also keep you from work, and lead to overwhelming medical bills, leading to emotional, physical, and financial problems. Long after the paramedics and tow trucks have left, you may find yourself still picking up the pieces. As professional Douglasville car accident lawyers, it is our job to help you pursue justice and compensation for what you went through after the accident.
If you don't work with a lawyer, navigating through the whole recovery process can be difficult. Keep in mind that insurance companies usually have an army of legal professionals on their side, and they know that many victims won't have the experience and legal background to fight a claim on their own. Working with a personal injury attorney helps to level the playing field, as it's often enough to get a higher settlement offer from the insurance company.
We believe that no one should have to go through the stresses of a car accident alone. After all, it would be difficult to make a full recovery if you can't afford the treatment you need. So, let us help you. If you or a loved one has been injured in a car accident, call your local car accident lawyers at 678-825-6004 now, or contact us online today. At Hartley, Rowe & Fowler, we have been helping car accident victims in Georgia for decades, and you can trust us to deliver a favorable outcome.


Car Accident Statistics for Georgia
According to car accident statistics from the Georgia Department of Transportation, there were 331,796 total car accidents in 2020. Of that number, 1,588 crashes were fatal, while almost 125,000 additional accidents resulted in injuries.
While there have been statewide efforts to minimize deaths in Georgia roadways, the data seems to be trending in the wrong direction. Statistics from the GDOT highlight that 1,730 people lost their lives in 2020 in car accidents, which is up from the 1,417 that occurred the previous year.
In 2021, the numbers are looking worse, as data from the National Safety Council show that Georgia had 911 auto crash fatalities in the first half of 2021 alone. This is a jump of about 29% from the same period the previous year.
How Much Does a Douglasville Car Accident Lawyer Cost?
Following a car accident, you may have a lot of questions and concerns about your next steps. While a local accident attorney can be a great resource for getting answers, many people hesitate to contact them because they assume their services will cost a lot of money. What they don't realize is that many auto wreck lawyers work on a contingency fee basis.
What this means is that when you choose to work with us, you will owe nothing upfront and you will only need to pay us when we win compensation on your behalf. This also means that your lawyer is invested in winning your case, as their payment is contingent upon you receiving compensation.
What Should I Do After a Car Accident?
Taking the right steps after a car accident is important for your health and your case.
Contact the Police
This will not only be helpful for protecting your rights and preserving evidence but is also a legal requirement in Georgia. Don't let anyone convince you otherwise (working it out without involving the police). The police will also help make the scene safer, being on standby to diffuse any tensions and prevent any form of violence.
Check on Other Parties and Don't Leave
In case the vehicles are creating a safety hazard, try getting to a shoulder and off the main roadway where possible. You don't want to get involved in a secondary collision, where another motorist strikes your car. In case you or someone on the scene is badly hurt, or it's unsafe to move the vehicle, then stay inside the car and wait for help. Turn on the hazard flashers to alert other motorists. Don't leave the scene of the accident until a police officer releases you to do so.
Exchange Information
Be sure to write down the names, phone numbers, and addresses of the parties involved. Also, note down the insurance information and license number plates of the other motorist. In case there are any witnesses, collect their contact information too.
Record the Scene
When it's safe to do so, take photos and videos of the scene of the accident. Try to capture the following information:
Injuries sustained by you and other victims
Damage to your car and the other cars
License plate numbers
The scene (up close and from a distance)
Skidmarks
Traffic lights and the intersection (if applicable)
Anything else you think could be helpful
Never Admit Fault
Avoid apologizing or saying anything that could be inferred to mean you're taking responsibility for the accident. The only way to tell why an accident happened and who should be liable is through a thorough investigation. Admitting fault could mean an investigation might never happen, as the insurance companies and other parties might twist your words against you.
Seek Medical Attention
Some internal injuries might take weeks to fully manifest, and if you wait for too long to see a doctor, the insurance company might argue that your injuries are not due to the accident. Furthermore, you might have lost crucial time to treat the injuries effectively, leading to extended pain and a longer recovery process. Early diagnosis and treatment are key.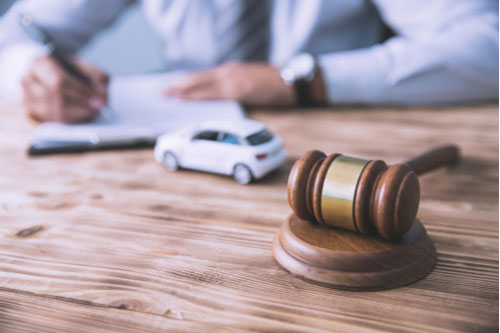 Contact a Car Accident Lawyer
Not all auto wreck lawyers are the same. Many large legal firms tend to delegate car accident cases to a virtual mill of paralegals and staff, where one lawyer handles hundreds of files. This means that some of these lawyers are so overworked to handle a file effectively. At Hartley, Rowe & Fowler, you can count on our local accident attorneys, who will compassionately and patiently listen to your case and counsel you through the details of your car accident case.
What Is the Average Settlement for a Car Accident?
According to the Insurance Information Institute, the average car accident claim in 2019 was settled for $18,417. In the same year, the average property damage settlement in a car accident case was settled for $4,525.
But it's worth noting that the amount of compensation you're entitled to will largely depend on the negotiations between the plaintiff and the defendants, including any parties who have been deemed liable. Your attorney will have to carefully collect all of the facts surrounding your case and document any damages you incurred.
When Should I Get a Lawyer for My Auto Accident?
The decision to hire a car accident attorney is entirely up to you. However, if you do decide to work with a lawyer, the best thing you can do is hire them as early as possible, ideally on the day of the accident. This is due to a few reasons:
Meeting deadlines: You have several deadlines to meet in terms of filing your car accident claim, and a car accident lawyer will help you meet them. This includes the statute of limitations.
Evidence preservation: Evidence in car accident cases may not last very long, such as the surveillance camera footage. This makes it vital to act fast to ensure that it's well preserved.
Witnesses: Memories can fade really quickly, and the witnesses can lose interest in the case. That's why it's always best for the investigator to reach out to the witnesses quickly before the witness' memory or motivation fades away.
If you decide to work with an auto accident attorney, you should act fast. It's best to contact a lawyer on the same day or within a few days after the accident. You can still contact a lawyer if you wait longer, but sooner is almost always better.
Why Do I Need an Auto Wreck Lawyer?
Here are some benefits of hiring a Douglasville car accident lawyer for your case.
Case Preparation
Your lawyer will be responsible for doing the investigations into your case to establish the cause of the accident. Your lawyer will also assess the available evidence and prepare a case on your behalf.
Settlement Negotiation
Your car accident lawyer will also negotiate for a suitable settlement based on the findings from the investigations and the available evidence. Our lawyers bring a wealth of experience and resources into your case and will ensure the defendant reaches an acceptable settlement amount. If they don't, the case will proceed to trial.
Trial Preparation & Representation
If the negotiations are unfruitful, your lawyer will proceed to file a lawsuit against the defendant. They will be by your side to give you all the guidance and advice you need to ensure a favorable outcome. You can be sure that if your case ends up going to trial, the car accident lawyers at Hartley, Rowe & Fowler will be more than ready to represent you and convince the jury of your innocence.
How Much Can I Expect to Receive for My Damages?
A few factors will influence how much your case is worth. For car accidents that result in moderate or minor injuries, you could be looking at a few thousand dollars worth of compensation. If the damage and injuries are serious and life-threatening, the damages could be worth hundreds of thousands of dollars.
Some of the factors that will be considered when determining the worth of your case include:
Do you need ongoing medical care or treatment for the injuries you sustained?
How much expense did you incur from your injuries?
Does your injury affect your ability to work?
Will you need additional help to take care of yourself (e.g., drive, eat, bathe)?
Did you get temporarily or permanently disabled as a result of the car accident?
Does any accident-related depression, PTSD, or anxiety affect your ability to work or enjoy your life?
How your injury impacts your life will ultimately determine how much you will be eligible for in compensation. That's why it's important to spend some time and resources investigating these questions and with the help of an experienced lawyer.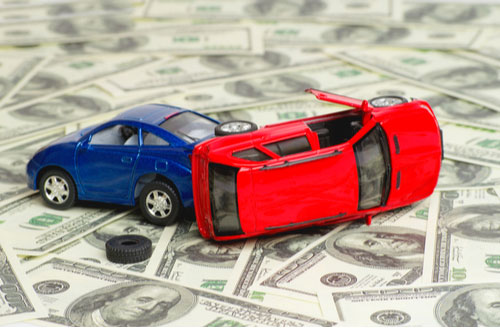 What Type of Damages Can I Recover?
Depending on the circumstances, car accident victims may claim three types of damages.
Economic Damages
These are damages that can be monetarily quantified. Economic damages are awarded for the past, present, and future medical expenses, lost income, loss of future earning, and the costs of traveling to obtain treatment. You may also be awarded economic damages meant to cover the cost of childcare and hiring other professionals to perform tasks you can no longer do yourself.
Non-Economic Damages
The damages and harm caused by car crashes are not always economic. The court may decide to compensate you for intangibles such as pain and suffering, emotional distress, as well as disfigurement or scarring that may accompany physical injuries.
Punitive Damages
If the at-fault party acted in ways that showed willful misconduct or malice, they might also be made to pay punitive damages. These are damages meant to serve as extra punishment to the negligent drivers and as a deterrent for them and others. The maximum amount for punitive damages in Georgia is capped at $250,000.
How Is Fault Determined?
Georgia is an at-fault state, which means that drivers are required to pay for any accidents that are a result of their negligent actions. It's therefore important to prove beyond a reasonable doubt who is responsible for the accident. But in many cases, establishing liability is not easy.
It's important to ensure that the circumstances surrounding your accident are carefully and thoroughly investigated. This is because you can pursue compensation from anyone whose carelessness, negligence, or wrongful actions contributed to the accident. Many accidents actually have more than one party responsible
Under Georgia's modified comparative fault rules, you can be barred from pursuing damages if you contributed more than half the blame for the accident. Although sharing fault doesn't necessarily bar you from getting compensation, it affects how much you can get as an award.
Your recovery will effectively be reduced in such a way that it reflects your role in the crash. For instance, if you're deemed 20% responsible for the accident, you can only recover up to 80% of your damages.
How Long Do I Have to File a Claim?
The statute of limitations in Georgia for personal injury lawsuits, including car accident cases, is 2 years from the date the accident occurred, and 4 years for property damage. If you let the deadlines elapse, the court will likely bar you from bringing legal action against the other driver and their insurance company.
What Can I Do If Insurance Denies My Claim?
When you file a claim in Georgia and the insurance company denies it, you can always file an appeal, file a lawsuit, or file a complaint with the Insurance Commission. An appeal is mostly an internal process, and all denial letters issued by the insurance company need to outline the grounds upon which they are denying the claim. In case the company simply wants more information, you can simply gather it and submit the appeal.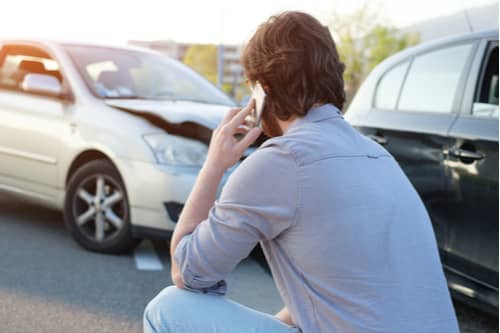 Do I Have a Case?
It's normal to wonder whether you have a case after a Douglasville car accident. If you want to be really sure, then consider consulting with an experienced car accident lawyer. At Hartley, Rowe & Fowler, we offer all our clients a free initial consultation, so you have nothing to lose by talking to us.
Call our experienced local accident lawyers today!
What If the Other Driver Doesn't Have Insurance?
Every driver in Georgia is required to carry auto insurance to legally drive on the state's roadways. Driving without liability insurance or sufficient insurance is actually considered a misdemeanor.
With this in mind, if you get into an accident with an uninsured motorist, you may have to file a claim against the person directly. This is especially true if your car insurance policy doesn't cover uninsured motorists. The case would continue as a typical personal injury case, and you could obtain compensation if successful.
However, consider reaching out to a Douglasville car accident lawyer if you are concerned about the extent of your coverage for these kinds of accidents.
How Can I Obtain an Accident Report?
A car accident report is available a few days following the accident at the local sheriff or police department that worked your accident case. You can also obtain it at the Georgia State Patrol office nearest to the scene of the accident, or on websites such as BuyCrash.com. You will be charged a small fee when you pick up the report in person, usually $5.
Common Car Accident Injuries
Car crashes can cause a range of injuries. Some of the most common car accident injuries include:
Neck Injuries
Back Injuries
Internal Injuries
Head Injuries
Leg & Knee Injuries
Facial Disfigurement
Types of Car Accidents We Handle
Our lawyers represent victims of all kinds of car crashes. The following are some accident types we see frequently:
Driving Under the Influence (DUI/DWI) Accidents
Head-on Collisions
Distracted Driving
Rear-End Accidents
Hit and Run Accidents
Rollover Accidents
Reckless Driving
Rideshare Accidents
Uninsured Motorist
Speeding Accidents
Contact a Local Car Accident Lawyer in Douglasville Today!
Have you or a loved one been injured in a Georgia car accident? You may be entitled to compensation. Get in touch with a Douglasville car accident lawyer at Hartley, Rowe & Fowler to learn more about your legal options and rights, as well as how we can help.
Call us today at 678-825-6004 to schedule a free case assessment with no obligations.