Everyone gets injured sooner or later. Store owners, landlords, business owners, as well as managers have the responsibility to make both public and private premises safe for visitors and residents. If you have been hurt on someone's property due to their negligence, contact a Douglasville premises liability lawyer immediately.
Premises liability laws hold property owners and managers responsible if their reckless or careless actions lead to injuries. You have the right to file a premises liability lawsuit to recover your medical bills, lost income, and any other damages you may have suffered.
At Hartley, Rowe & Fowler, we are ready to help you understand your legal options. Our experienced premises liability lawyers will conduct an investigation, discuss your options, and help you make an informed decision. Call our Douglasville personal injury attorneys at 678-825-6004 now to book your free case review.
Do I Have a Premises Liability Case?
To determine if you have a premises liability case in Douglasville, GA, there are various conditions that you must satisfy. A knowledgeable premises liability attorney can guide you throughout this process.
First, you must prove that you were at the property and that the accident led to injuries and damages. You must also provide sufficient evidence supporting your case, such as CCTV footage, photos of visible injuries and hazards within the property, hospital records, and financial statements related to your accident. Testimonies from witnesses and bystanders can also help slip and fall lawyers determine if you have a case.
Evidence collection and analysis is a crucial part of any premises liability case. At Hartley, Rowe & Fowler, our premises liability lawyers will go above and beyond to collect all relevant evidence, including amateur videos taken by witnesses at the scene, to prove you have a claim.
Common Causes of Slips and Falls and Other Premises Accidents
Countless types of accidents can happen when you are on someone else's property. The consequences of these accidents can be devastating for guests and residents. Victims may at times sustain life-altering injuries or even death.
Some of the common types of accidents that Douglasville residents face include:
Slipping and falling on a wet surface
Faulty railings
Structural failings that result in injury
Elevator and escalator accidents
Children playing and getting hurt in an unsafe location
Being hit by a falling object
Tripping in an unlit section or on an uneven surface.
What Do You Need to Prove in a Premises Liability Case?
If you or someone you care about has been hurt on public or private property, you may be eligible for compensation. A skilled Douglasville premises liability lawyer can help you unearth who is to blame for your injury.
To prove your Georgia premises liability case, Hartley, Rowe & Fowler will establish these four facts:
There was a hazard on the property, such as broken stairs, exposed electrical wires, leaking water pipes, or an unattended swimming pool.
The property owner or manager knew about the unsafe condition, or they should have known if they appropriately inspected and took care of the premises. For instance, a mall owner should know that there is a faulty escalator that endangers the safety of visitors on their premises.
Negligence comes in when a property owner is aware of a hazard and blatantly disregards the safety of others on the premises. For instance, a restaurant manager who notices a spill and ignores it may be held liable for your injuries. Such an individual did nothing to prevent people from being hurt.
Lastly, if another person's negligence led to your injuries, you can hold them accountable for their actions. As a plaintiff, you can file a claim with the help of a premises liability attorney to recover damages.
What If My Child Is Injured?
Children are typically drawn to dangerous situations, like half-finished buildings or empty pits. The state of Georgia recognizes this fact and imposes a duty on all property owners to make sure their premises do not have any hazards that risk the safety and well-being of children.
Under the attractive nuisance doctrine, a property owner can be found liable if a child gets hurt by a condition or object that likely attracted them. This doctrine applies if the child doesn't understand the risk of harm.
A premises liability lawyer in Douglasville can help determine if a property owner should be held liable for your child's injury by proving these elements:
The law assumes that children may not be aware of the magnitude of risk or danger.
A property owner is responsible for protecting children from any type of danger in the event they enter their property. Remember, special care applies to children under the law, implying they aren't likely to be treated as trespassers.
A property owner will be held accountable if they don't protect children from such harm.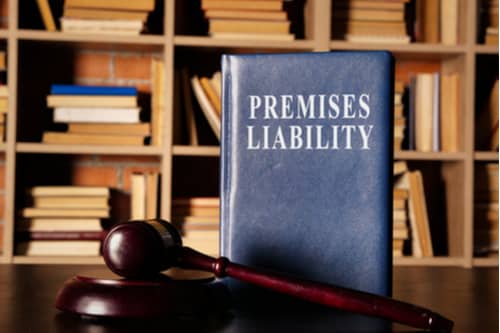 Property owners should secure hazards to make sure children cannot gain access or hurt themselves. For instance:
Property owners should lock or fence unused areas in their premises like drained pools. Still, the fence should be high enough for a child to find it hard to climb.
Property owners should also cover pits or wells with heavy objects that a child can't lift.
Construction sites should be completely fenced to prevent children from gaining access.
Drivers should remove car keys to prevent children from getting inside.
Contractors should unplug and lock up any power tools after usage.
Property owners are legally obligated to make sure their premises are free from hazards that can attract and harm children. A premise liability attorney can use the attractive nuisance doctrine to prove that an owner or manager was liable for your child's injuries.
What If I Was Injured at My Workplace?
Building owners and managers have a duty to keep their premises safe from any hazards. They should also warn visitors of potentially unsafe situations, like slippery or wet surfaces. Landlords also have a duty to provide a safe habitat for their tenants.
Employees in Douglasville, Georgia, also have rights when injured at the workplace. If you've been injured at your worksite or while performing job-related tasks, you may file for workers' compensation. Your employer's insurance carrier will cover all costs related to your workplace injury, including medical bills and lost income.
Remember, you have 30 days from the date of your accident to report the incident to your supervisor or employer. Failing to report your injury within this period will result in you losing your worker's compensation benefits.
Is There a Deadline for Filing a Premises Liability Lawsuit in Georgia?
Every type of claim in Georgia has a statute of limitations. This is the deadline for plaintiffs to file their lawsuits. If you don't file your claim before the set deadline, you risk your case being thrown out by Georgia courts. You won't be able to recover any damages for your premises liability claim.
You have two years from the date of your injury to file a premises liability claim in Georgia. Depending on your circumstances, this time limit may start on the date when you discover your injury. If an injury results in the death of your loved one, you also have two years to file a wrongful death claim in Georgia.
When filing a premises liability claim against a government entity or state employee in Georgia, the law requires you to provide written notice within 12 months from the date of your injury.
For a workers' compensation claim, you have one year from the date of your workplace accident to file a claim.
An experienced premises liability lawyer can help you gather and analyze relevant evidence and file your claim on time. At Hartley, Rowe & Fowler, our legal team will handle all your paperwork to make sure we file your claim before the deadline. We will look into the facts of your premises liability case to determine the value of your claim and send a demand letter to the insurance provider for maximum compensation.
Speak to a Douglasville Premises Liability Lawyer Today!
After sustaining an injury on someone else's property, you may be in pain and have mounting medical bills. You may also be unable to return to work for a while or even permanently. Our premises liability attorneys are prepared to help you with your case as you focus on recovery.
We at Hartley, Rowe & Fowler understand how stressful this period can be for anyone.
Our reliable law firm in Douglasville can build a case against liable parties to ensure you get the compensation you deserve. We will conduct in-depth investigations and use evidence, including CCTV footage, to determine fault.
Once we establish the property owner's or manager's negligence, our legal team will determine how much your case is worth, and aggressively negotiate to make sure you get the compensation you deserve. We won't accept any lowball offers from insurance adjusters.
Call 678-825-6004 today to schedule your free case evaluation. Our Douglasville premises liability lawyers are prepared to listen to you and help you throughout the claims process. Get started now before it's too late to recover money for your damages.