If a close family member has died because of someone else's intentional or negligent act, the compassionate and experienced Douglasville wrongful death lawyers at Hartley, Rowe & Fowler can help. We understand that no lawsuit can restore the loss of a loved one, but a successful wrongful death action can help your family reach closure and secure the financial compensation you need to get on with your lives.
Regardless of the circumstances, experiencing the loss of a loved one is an emotionally difficult time for family and friends left behind. When that loved one is lost to an untimely death caused by the fault of another party or entity, the pain is compounded by the fact that the loss did not have to occur.
Surviving families are often left to cover medical and funeral expenses, not to mention enduring the loss of emotional and financial support they received from their departed relative. Fortunately, thanks to Georgia's Wrongful Death Act, the deceased's family can bring a wrongful death claim against the at-fault party and claim damages to help ease the financial burden.
At Hartley, Rowe & Fowler, we are dedicated to helping the loved ones of victims fight for their rights. Respect, compassion, and aggressive representation are what you can expect from our Douglasville personal injury attorneys. For decades, we have helped bereaved relatives like yours recover the money they deserve to help them regain their lives.
Let us help your family, too. Call Hartley, Rowe & Fowler at 678-825-6004 for a free case evaluation.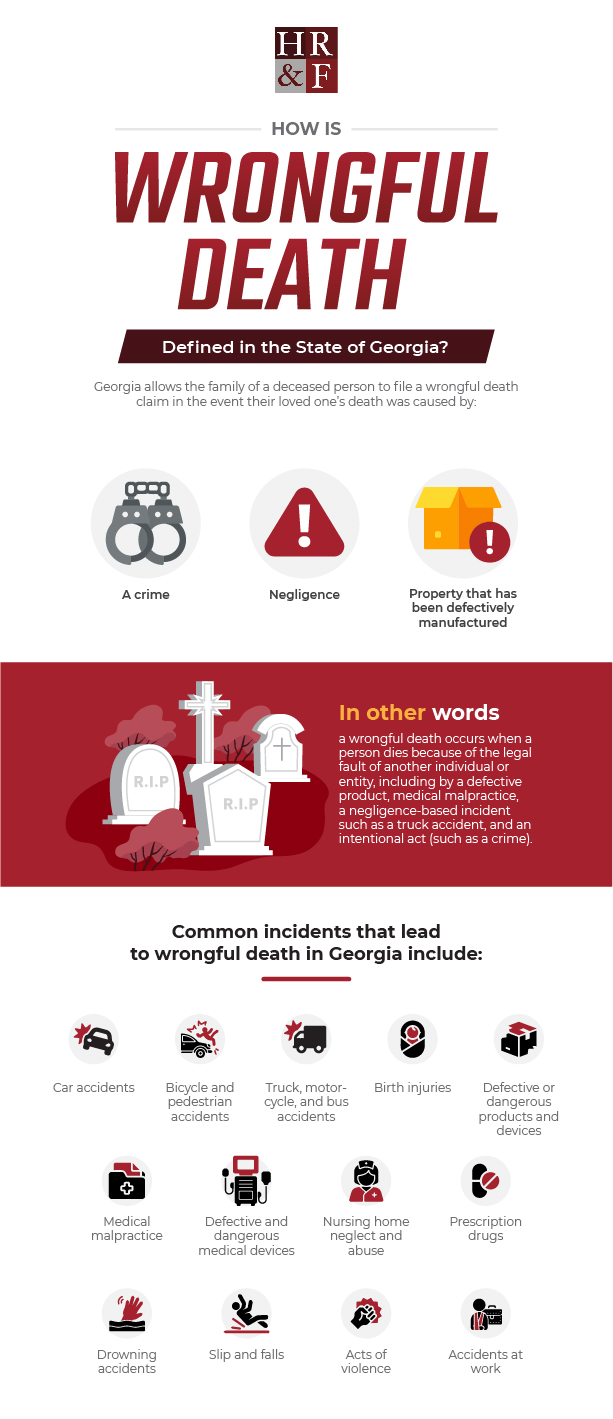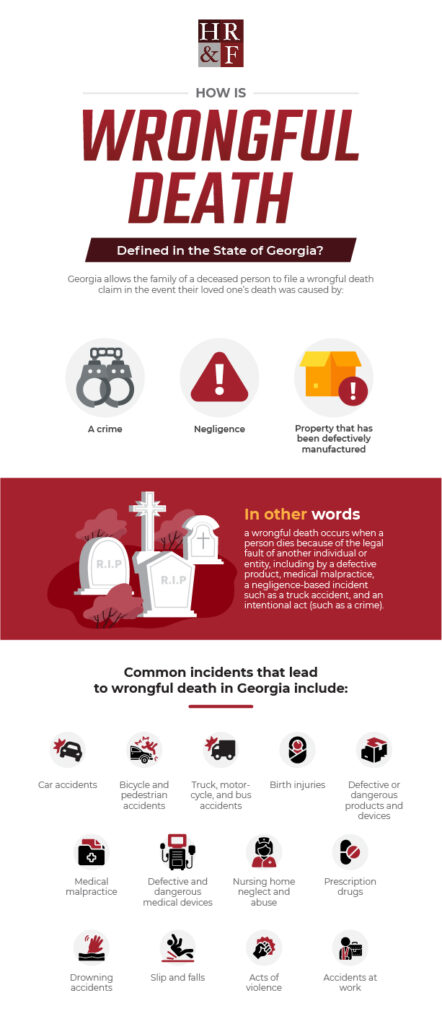 How Is Wrongful Death Defined in the State of Georgia?
Georgia created a cause of action for wrongful death in O.C.G.A § 51-4-1. The statute allows the family of a deceased person to file a wrongful death claim in the event their loved one's death was caused by:
A crime
Negligence
Property that has been defectively manufactured.
In other words, a wrongful death occurs when a person dies because of the legal fault of another individual or entity, including by a defective product, medical malpractice, a negligence-based incident such as a truck accident, and an intentional act (such as a crime).
Common incidents that lead to wrongful death in Georgia include:
Bicycle and pedestrian accidents
Truck, motorcycle, and bus accidents
Birth injuries
Defective or dangerous products and devices
Defective and dangerous medical devices
Nursing home neglect and abuse
Prescription drugs
Drowning accidents
Acts of violence
Accidents at work.
Who Is Qualified to File a Wrongful Death Claim in Douglasville?
Unlike typical personal injury cases, the injured person in a wrongful death case is deceased and can no longer claim damages in court. Instead, another person must file the lawsuit on the decedent's behalf, and Georgia law determines who is qualified to do so.
Georgia Code Title 51 – Wrongful Death § 51-4-2 outlines the people eligible to file a wrongful death claim in the following order:
The decedent's surviving spouse
The child or children (including children born out-of-wedlock) if there is no surviving spouse
 The decedent's parent or parents, if there are no surviving spouse, child, or children
The executor or administrator of the decedent's estate if there are no surviving spouse, child, or parents.
It's important to note that the decedent's surviving spouse is the primary plaintiff in a wrongful claim. They need not consult or get permission from the decedent's children or parents to initiate or settle the matter.
Under Georgia law, no other relative, such as a grandparent or sibling, is qualified to file a wrongful death claim on behalf of the deceased; only the persons mentioned above may make a claim. If the decedent's estate executor files the claim, any settlement recovered is held by the estate on behalf of the decedent's next of kin.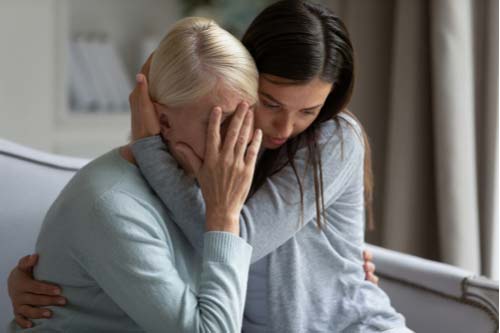 What Damages Are Recoverable in a Georgia Wrongful Death Case?
In addition to the emotional toll, the untimely loss of a loved one can result in extreme financial hardships that surviving family may not be prepared to handle. When the tragedy of the loss of your loved one was caused by negligence, intentional act, or a defective product, turn to the compassionate Douglasville wrongful death lawyers at Hartley, Rowe & Fowler. We can hold that person accountable for the economic hardships your family experiences as a result of the death.
In wrongful death cases in Georgia, the damages available are different from those available under a Georgia personal injury lawsuit where the victim survived.
A wrongful death claim aims to help surviving family to recover the "full value of the life of the deceased," which can include both economic and non-economic damages, such as:
Lost income, benefits, and services, including what the decedent might reasonably have earned had they lived
Lost companionship, advice, counsel, and care.
Many wrongful death lawsuits are often settled through settlements. However, when negotiations with the other side fail, the surviving family can file a lawsuit, and the case may go to trial. The Douglasville wrongful death lawyers at Hartley, Rowe & Fowler have experienced trial attorneys and are always ready to fight for the justice your family deserves in court.
Our legal team understands the many ways the loss of a loved one can impact your life. That's precisely why we take care of the required paperwork and court appearances on your behalf so you can take the time you need to grieve. Contact our firm to have our experienced and dedicated wrongful death lawyers fight for the maximum compensation you deserve.
Can Family Members File for Punitive Damages?
Yes and no. While punitive damages are recoverable in cases involving extreme or egregious behavior or willful negligence to punish the responsible party, these damages cannot be recovered through a typical wrongful death claim.
Punitive damages can only be recovered through an estate claim. An estate claim is filed by the decedent's estate executor or administrator on behalf of the decedent's next of kin.
Please contact a Douglasville wrongful death lawyer to learn more about the difference between a wrongful death claim and an estate claim. Georgia's wrongful death laws can be quite complex, and recovering maximum compensation requires a thorough understanding of the nuances of Georgia's wrongful death laws.
How Is the Settlement Shared Among Surviving Family Members?
Georgia law (O.C.G.A. § 51-4-2) defines who is eligible to file a wrongful death claim and how recovered compensation should be divided among surviving family members.
Typically, the surviving spouse has a near unilateral right to initiate and settle a wrongful death lawsuit. However, the recovered compensation must be shared equally with the surviving children, except that the spouse's share must be at least one-third of the total settlement.
For example, assume that a wrongful death suit is filed in Douglasville by the surviving spouse. Three children also survived the deceased. The wrongful death lawsuit is settled for $900,000. In such a scenario, the surviving spouse would be able to recover at least $270,000 (before deducting any applicable expenses or fees). The three children would then split the remaining two-thirds portion equally among themselves.
Note that all children are eligible to recover compensation, including those that are born out-of-wedlock. If the spouse passes away before the wrongful death claim is settled or tried to a jury, then the three surviving children would be the appropriate parties to recover compensation.
Compensation recovered through an estate claim is distributed according to the decedent's Will, and if there is no Will, compensation is distributed according to Georgia's intestate succession laws.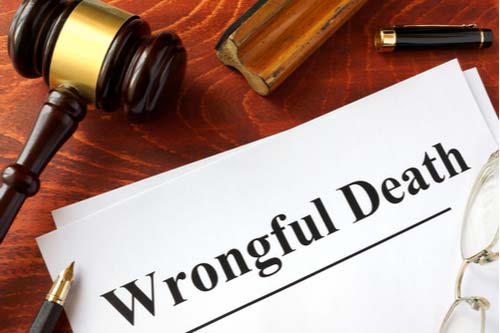 How Is Negligence Proved in a Wrongful Death Case?
Most wrongful death lawsuits in Georgia contend that the negligence of another person or entity killed a person. The plaintiff will need to prove the same four elements fundamental to a negligence claim:
Duty: The negligent person or entity had a duty to the deceased to conduct themselves safely and reasonably.
Breach: The accused breached that duty of care by not behaving or acting safely or reasonably.
Causation: The accused person or entity's breach of duty of care resulted in the victim's death.
Damage: The decedent's death resulted in damages.
Georgia's Modified Comparative Negligence Law
Under the modified comparative negligence rule, if a judge or jury determines that the deceased was 49% or less at fault, the surviving family can still recover compensation equal to the percentage of damage. However, if the deceased is determined to have been at least 50% responsible for their death, they cannot recover compensation.
Many defendants in wrongful death cases deny liability, and their insurers may argue that the deceased was more than 50% at fault for their own death. The departed cannot defend themselves in such instances, but the Harley, Rowe & Fowler law firm will fight for justice for your family and your loved one and seek to hold the negligent party accountable.
What Is Georgia's Wrongful Death Statute of Limitations?
Like other lawsuits, there are strict time limits for filing a wrongful death claim in Georgia, defined by a law referred to as "statute of limitations." Georgia code O.C.G.A § 9-3-33 places a two-year statute of limitations or deadline on actions for death by wrongful acts. The window starts to close on the date of the decedent's death, which may differ from the date of the accident that caused the decedent's fatal injuries.
Depending on the circumstances surrounding the case, the time limit for filing a wrongful death claim in Douglasville, GA, could be shorter or longer. If the wrongful death lawsuit is not filed within the set deadline, the right to file and recover justice is almost always lost.
Situations where the two-year time limit may be temporarily stopped include:
If the death of your loved one was the result of a crime
When the decedent's estate has been probated.
Please talk to an experienced wrongful death lawyer to make sure you stay on top of all time limits that apply to your case.
What Is a Wrongful Death Claim vs. an Estate Claim in Georgia?
Wrongful death lawsuits in Georgia are typically divided into two separate claims: a wrongful death claim and an estate claim.
A wrongful death claim is filed by the decedent's surviving spouse, children, or parents and aims to compensate surviving family for the "full value of the life of the deceased."
An estate claim is filed by the decedent's estate administrator and aims to compensate the estate for damages that would have accrued to the deceased had they lived. Recoverable damages for an estate claim include:
Medical expenses incurred before death
Funeral and burial expenses
The decedent's conscious pain and suffering before death
Punitive damages.
All compensation recovered by the estate is distributed to the decedent's heirs according to their will or as provided by Georgia Law.
Contact Our Douglasville Wrongful Death Lawyers Today
If you've lost a loved one and are considering a wrongful death lawsuit, it's a good idea to speak with an experienced wrongful death lawyer as soon as possible because:
Evidence can erode.
Witnesses' memories can fade with time.
Your family may be experiencing financial hardships without the support of your loved one.
Experience matters.
At Hartley, Rowe & Fowler, we handle all aspects of your case, including investigating, communicating, negotiating with the other side, and if necessary, we litigate. We understand that filing a lawsuit may not be a priority while you're in mourning. But you only have a limited window to take legal action against the party that contributed or caused your loved one's untimely death.
You should not shoulder the emotional and financial consequences alone if you lose a loved one because of someone's wrongful act or negligence. Call Hartey, Rowe & Fowler at 678-825-6004 today for a free consultation.