Careless drivers are not the only cause of motorcycle accidents. Motorcycle accident lawyers in Douglasville understand that defective brakes may contribute to some accidents when the rider loses control of their motorcycle.
You may be entitled to compensation for your injuries if you believe that a motorcycle part contributed to or was the direct cause of the motorcycle accident in which you were injured. Auto accident lawyers in Douglasville can get you that fair compensation.
To obtain the damages you are entitled to under Georgia law, you need an experienced lawyer. Most riders are always in doubt about whether they can sue the manufacturer of their motorcycle parts for damages in the case of an accident. Many also do not know how the process of seeking compensation from a manufacturing company works.
This article will explain everything you need to know when a defective brake causes your motorcycle accident and how you can get the compensation you deserve.
What Happens When Defective Brakes Cause a Motorcycle Accident 
What happens when a motorcycle accident is caused by defective parts such as brakes? Motorcycle accidents involving defective brakes are very common, as good brakes can prevent most of the causes of motorcycle accidents.
Motorbike owners and passengers may be put at risk due to defective motorcycle parts and poor design. One faulty motorcycle component alone can result in a loss of control and a crash. Asides from defective brakes, the following parts of a motorcycle can lead to motorcycle accidents:
Defective tires
Defective fuel systems
Helmet defects
Chain failures
Defective clutches
Defective pedals
Overall poor design of the motorcycle
If a defective brake causes your motorcycle accident, you can recover compensation for your losses. This is because Georgia runs a fault-based accident system. The party whose actions resulted in the faulty brake will pay you for all the damages the brake caused.
Who Is At Fault If a Defective Brake Caused My Motorcycle Accident?
Motorcycle manufacturers sometimes use less expensive or substandard parts to reduce production costs rather than spend more on higher-quality motorcycle parts. If a manufacturer does this, they will be liable for any losses that flow from a defective brake accident. The manufacturer has a legal duty not to endanger it's customers by using unreliable parts.
However, in some cases, your motorcycle shop or mechanic in charge of keeping the bike in working order may also be held accountable. If a motorcycle was not properly maintained or had parts placed inappropriately, the mechanic will be responsible.
Depending on the peculiarities of your case and the nature of your accident, other parties might be responsible for your motorcycle accident. Discussing with an auto accident lawyer in Douglasville will give you the legal details of your case and how you can successfully get compensation. However, knowing the right person to sue is the first step to getting the compensation you deserve.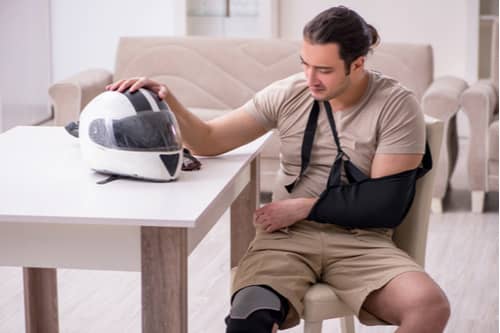 Recoverable Damages in a Defective Brake Motorcycle Accident
Suppose your motorcycle accident compensation claim is successful. Then, you can recover damages for the losses you sustained during the crash. Notably, you can get several classes of damages. But this depends on the nature of injuries and other losses you suffered.
So, we'll explain your recoverable damages below.
Medical Bills
If you get into a motorcycle crash, you'll most likely sustain significant injuries. Therefore, you'll have to pay medical bills for some time. Your injuries may even be so bad that you'll require future medical attention.
Whatever the case, you can always claim these costs from the negligent party. They'll pay for causing you harm through their defective product. Examples of medical bills you can get include:
Hospitalization fees
Cost of medical equipment, like wheelchairs
Pharmaceutical bills
Nursing home costs
Lost Wages
Depending on the severity of your wounds, you may not be able to work for some time. Consequently, you may lose your wages for that period. If it wasn't a work-related accident, you cannot get workers' compensation either. Therefore, you can recover all the money you should have earned if you weren't injured and incapable of working.
Cost of Motorcycle Repairs
An accident will damage your motorcycle, no matter how minor the crash seems. However, paying the repair bills yourself will be unfair. So, you can recover compensation from the negligent party. The manufacturer, motorcycle dealership or mechanic will pay to fix your bike or get you a new one.
Pain and Suffering
Motorcycle crashes often leave victims with chronic pain in several body parts. In addition, you can go through emotional suffering and trauma because of the accident. Fortunately, a motorcycle accident lawyer Douglasville can get you compensation for these non-economic losses.
Punitive Damages
In some cases, you can also get punitive damages from the motorcycle manufacturer. Douglasville judges award punitive damages when the defendant's conduct is so bad that they deserve some punishment. For example, suppose the manufacturer knew that their motorcycle brakes were faulty.
If they went ahead to sell the motorcycles, you can recover punitive damages. Here, the manufacturer was reckless and didn't care that their defective motorcycles could hurt someone. The court can award extra money after your compensation to punish the manufacturer and prevent others from acting in the same manner.
How Long Do I Have to File a Defective Brake Motorcycle Accident Claim?
If a defective brake caused your motorcycle accident, you need to act fast. You don't have all day to file a legal claim. Instead, Georgia's Statute of Limitations dictates how soon your auto accident lawyers in Douglasville must file a lawsuit.
So, you have only two years to file a motorcycle accident lawsuit for bodily injuries. Furthermore, you must bring a claim for property damage within four years. All timeframes start counting from the date of the accident.
However, these timelines don't apply to insurance claims. You can accept an insurance settlement anytime. But it's best to ensure that you initiate and complete the negotiations before your statutory window closes.
Contact Our Motorcycle Accident Lawyers in Douglasville
Most bikers do not think they can get compensation from manufacturing companies when a defective brake causes a motorcycle accident. However, as discussed earlier, an auto accident attorney in Douglasville can file a claim to help get injured bikers the compensation they deserve.
We understand the impact of the damages riders and their passengers have after a motorcycle accident, and we are determined to use our legal expertise to make the situation better for them. Book a free consultation today with our personal injury lawyers in Douglasville.