Busy highways are abundant in Atlanta, and tractor-trailers, semi-trucks, tanker trailers, and other commercial trucks are a fact of life on the Interstate 85, Interstate 285, the Georgia 400, and other roads that cross Atlanta. All too often, the increase in the number of commercial trucks operating on these already-busy roadways comes the enhanced possibility of catastrophic and fatal accidents.
Collisions with tractor-trailers or other commercial trucks cause devastating consequences, often resulting in severe injuries, life-long complications or disability, and death. The skilled and compassionate Atlanta trucking accident lawyers at Hartley, Rowe & Fowler understand that life after a truck accident can be overwhelming. Many victims struggle with pain and disabilities caused by the injury.
Hartley, Rowe, & Fowler P.C has been handling cases involving trucks for decades. Our Atlanta truck accident lawyers are committed to handling your trucking accident claim effectively and aggressively so you can recover maximum compensation. We help truck accident victims, and their families move forward after a trucking accident has upended their lives.
You should not be forced to face the financial consequences of a truck accident alone. We will put our experience, resources, and knowledge to work for you, so you get the compensation you need to get your life back on track. Call our Atlanta personal injury lawyers at 678-825-6004 to schedule a free and confidential consultation.
Accident crash data published by the Federal Motor Carrier Safety Administration reveals that truck accidents have become an issue of concern in Georgia. Since 2017, the number of crashes involving large trucks (trucks used for commercial purposes with a GVWR (gross vehicle weight rating) greater than 10,000 pounds) has fluctuated a lot.
In 2020, 5,620 vehicles were involved in truck-related crashes in Georgia; out of these crashes, 217 vehicles were involved in fatal crashes.
In 2020, there were 195 fatal truck-related crashes in Georgia, with 2,597 people sustaining severe injuries and another 220 losing their lives in these accidents.
Sadly, the number of fatalities has surged over the years:
2018: 177 fatalities
2019: 190 fatalities
2020: 220 fatalities
What Should You Do After a Truck Accident?
Following a trucking accident, the decisions you make could impact your health and ability to pursue compensation. You must take the steps below to protect your safety and rights if you suffer injuries in an accident involving a commercial truck:
Call 911: They will document the accident scene and complete a crash report for legal purposes.
Help Others Involved: If possible, check on passengers of your vehicle and others involved and if anyone is injured, call emergency responders for medical help.
Document the Scene: Record essential details of the crash. Take pictures of the damage to your vehicle, your injuries, and the overall crash scene.
Seek Medical Attention: Seek medical attention right away or at least within 24 hours of the crash. Don't underestimate the severity of your injuries; Minor injuries may lead to further complications down the line.
Speak With Witnesses: Look around for people who witness the accident. Write down their names, addresses, phone numbers, and emails. They could be willing to provide witness statements and confirm your version of events.
Exchange Info: Get the truck driver's name, employer information, contact information, vehicle, and insurance information as well.
Contact an 18 wheeler accident Attorney: Talk to an Atlanta truck accident lawyer to handle your case as you rest and recuperate.
What Are the Laws Regarding Trucking Accident Liability in Atlanta?
The state of Georgia recognizes the fact that multiple parties may be liable in a truck accident.
Where a truck accident lawsuit is brought against one or more persons or entities for personal injury or property damage, the court shall apply the modified comparative negligence system under O.C.G.A § 51-12-33 (2010) to determine liability.
Under this rule, the jury or judge shall determine each person or entity's degree of fault/liability – including the plaintiff – and award damages to the plaintiff in proportion to their degree or percentage of fault. Under the modified comparative negligence system, you cannot recover compensation if you were 50% or more responsible for the truck accident.
How Can a Truck Accident Attorney Help?
The experienced result-driven Atlanta truck accident attorneys at Harley, Rowe & Fowler are passionate about helping trucking accident victims and making roadways in Atlanta and across Georgia safer. That commitment drives everything we handle on your behalf. You can count on our legal team to handle:
Investigation
Filing a Claim
Settlement Negotiations
Litigation
To learn more about how our truck accident lawyers can help you, call us today. We handle truck accident cases on a contingency fee basis and provide a free consultation to discuss your legal options.
What Types of Compensation Can I Receive?
A collision involving commercial trucks can be catastrophic, often leaving you with more than physical and emotional damages. In addition to a lifetime of pain or disability, you could be facing financial hardships as a result of the accident.
The Atlanta truck accident lawyers at Harley, Rowe & Fowler can help you lessen the financial implications resulting from a trucking accident by pursuing all the damages you're entitled to, including:
Economic Damages: These include but are not limited to the cost of medical care, prescriptions, rehabilitation, loss of earning capacity, and property damage.
Non-Economic Damages: Examples include loss of enjoyment or quality of life, loss of use of a body part, mental anguish, pain, and suffering.
Punitive Damages: These are awarded outside economic and non-economic damages in cases where the tier of fact (judge or jury) determines that the accused party or entity acted maliciously or egregiously.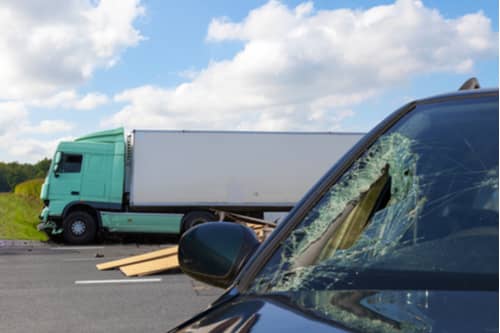 How Much Is My Atlanta Truck Accident Claim Worth?
It is almost impossible to predict without consulting a truck accident lawyer. Every truck accident is unique, and various factors affect how much a victim can pursue from the negligent persons or entities that caused their suffering. These factors include the severity of your injuries, your percentage of fault, the extent of property damage, and more.
Speaking with an Atlanta truck accident attorney from Hartley, Rowe & Fowler can help you get a better picture of how much your case is worth, which can help you decide whether or not to accept an insurance settlement or pursue further damages through litigation.
Is There a Deadline for Filing a Truck Accident Claim in Atlanta?
Georgia has legal guidelines referred to as "statutes of limitations" outlining how long a truck accident victim has to file a trucking accident lawsuit. The deadline for truck accident lawsuits in Atlanta is two years.
If you were hurt in an Atlanta trailer truck or other commercial truck accident and cannot reach an appropriate settlement with the insurance, you have two years from the date of your crash to file your lawsuit in court.
Can a Lawyer Prove the Truck Driver Was Negligent?
Trailer trucks, 18-wheelers, and other commercial trucks are complex machines regulated by even more complex rules and regulations on the state and federal levels. Truck drivers must obey these rules.
If you believe the driver's negligence was the cause of the wreck, we can help. Our Atlanta truck accident attorneys work with expert investigators and accident reconstructionists to prove the trucker's negligence. Some of the steps we can take to obtain evidence regarding the driver's negligence include:
Look at the truck driver's logbooks
Review police accident reports
Analyze any security video footage of the wreck
Analyze accident scene photos and statements from witnesses
And much more
Who Can Be Held Liable?
You might think that the trucker would be liable for a collision since they're the one behind the wheel at the time of the crash. However, other parties could be at fault if their negligence contributed to the accident. Potentially liable parties in a truck accident lawsuit may include:
The Truck Driver
The Trucking Company
The Loading Company That Loaded the Truck
The Manufacturers of the Vehicle or Repair Parts
Dealing with one liable party is often stressful enough. Dealing with multiple liable parties at the same time can be confusing and overwhelming. Turn to our truck accident lawyers to ensure that every person or entity responsible for your suffering is held accountable.
Common Causes of Truck Accidents
Several factors come into play into the why and how truck accidents happen. Some of the most common causes of trucking accidents in Atlanta, GA, include:
Driver Fatigue
Distractions
Reckless Driving
Drug Use
Following Too Closely
Oversized or Improperly Secured Cargo/Freight
Poorly Trained or Inexperienced Drivers
Lack of Truck Maintenance
Equipment Malfunction
Poor Weather and Road Conditions
Don't Take Chances. Contact your Atlanta Trucking Accident Lawyer Today!
No matter your injury, if your injury occurred in a trucking accident because of the negligence of another party, Hartley, Rowe & Fowler are here to assist you. We understand the implications of a catastrophic truck accident and are committed to investigating, negotiating, and litigating your case.
The Atlanta truck accident attorneys at Harley, Rowe & Fowler have the resources, experience, passion, and skills needed to aggressively pursue all legal avenues available to recover the damages you suffered. Call our skilled attorneys at 678-825-6004 and schedule a free consultation to discuss your case.