If you or someone you care about is a victim of a car crash in Georgia, you should consider hiring an Atlanta car accident lawyer. It may be tempting to promptly settle your case with the insurance carrier after an accident. However, you should know that your claim may be worth much more than what insurance adjusters are offering you.
After a car collision in Atlanta, legal advice from an experienced lawyer can have tremendous benefits. You can find out if you have a valid personal injury claim when you speak to an attorney. You can also discover how much your claim may be worth during your case evaluation.
At Hartley Rowe & Fowler, we care about our clients. Our legal team works tirelessly to ensure Atlanta residents and visitors get the best possible outcomes for their personal injury claims. Call 678-825-6004 today to find out if you have a case.
Car Accident Statistics
Every day, people all over the U.S. get hurt or die due to car accidents. The National Highway Traffic Safety Administration (NHTSA) reports that there were 36,835 and 36,096 motor vehicle fatalities in 2018 and 2019, respectively. There were 739 fewer fatalities reported in 2019, representing a 2% decline.
In Georgia, a total of 549 passenger car fatalities were reported in 2019. Fulton County recorded 48 and 45 passenger car fatalities in 2018 and 2019, respectively.
How Much Does an Atlanta Car Accident Lawyer Cost?
At Hartley Rowe & Fowler, we understand how accidents affect the finances of victims. We operate on a contingency fee basis, meaning you can enjoy our legal services without paying any upfront fees. You will only pay us once we win your Atlanta personal injury case.
What Should I Do After a Car Accident?
What you do after a car wreck can make or break your case. It's important to remain calm if you are involved in a car crash. Here's what you should do after an accident in Atlanta, Georgia:
Contact Police
It's advisable to call the police as soon as you are involved in a car crash. You can call 911 to report your accident. A 911 operator will send law enforcement officers to the scene of the accident. The police will prepare a report that can help to prove who was to blame for your crash.
Check on Other Involved Parties
If you aren't hurt after an accident, make sure you check if all other vehicle occupants are okay. Help any driver or passenger that's seriously injured. Your fast actions may help to save their lives.
However, if you are in a critical condition, it's advisable to wait for help. Trying to help others may worsen your condition.
Exchange Info
Make sure you note down all the details of the involved parties at the accident scene. Get the names, addresses, insurance information, and phone numbers of other drivers, as well as the contact details of any eyewitnesses.
Record the Scene
Evidence from the scene of the accident can help to prove liability. You may use your phone to take videos and photos of evidence like skid marks, weather conditions, road signs, cuts and bruises, and any vehicle damage. Photos can illustrate the severity of your injuries and help an Atlanta car accident lawyer establish who was to blame for your car wreck.
Never Admit Fault
Admitting fault in a car crash can completely hurt your case. Insurance companies will deny your claim if you accept liability.
Seek Medical Attention
Never assume you are fine after a crash. It's best to visit a doctor for a medical checkup if you have been involved in an accident in Atlanta. A professional assessment can help you avert serious complications, like internal bleeding or a traumatic brain injury.
Call a Car Accident Lawyer!
Schedule a consultation with an Atlanta car accident attorney who can protect your rights and interests. At Hartley Rowe & Fowler, our lawyers have been dealing with insurance companies for the longest time. We know all their tricks and tactics. Our legal team won't let any insurance adjusters take advantage of you at any point in the claims process. We will fight to make sure you get the settlement you deserve.
When Should I Get a Lawyer for My Auto Accident?
After a car accident, it is advisable to hire a lawyer as soon as possible. Remember, the other party may also be in touch with their lawyer. You need a lawyer by your side to protect your rights throughout the process.
Why Do I Need a Lawyer?
An Atlanta car accident attorney can handle your case while you rest and recover. Here are some of the benefits of hiring the lawyers at Hartley Rowe & Fowler to handle your auto accident claim:
Case Preparation / Filing a Lawsuit
Our legal team is prepared to obtain police reports and interview bystanders who witnessed your crash. We will also analyze your medical records and speak to doctors to get a better picture of the severity of your injuries. Once we are done with our preliminary investigation, we will file a personal injury claim and push for maximum compensation.
Settlement Negotiation
The lawyers at Hartley Rowe & Fowler will calculate the value of your claim by analyzing your vehicle repair costs, lost income, medical bills, and other damages. We will also handle your negotiations, ensuring you receive a fair settlement for your car accident claim in Atlanta.
Trial Preparation & Representation
Most car accident cases don't end up in court. However, if you can't reach an agreement with the insurer, Hartley Rowe & Fowler is prepared to represent you in court.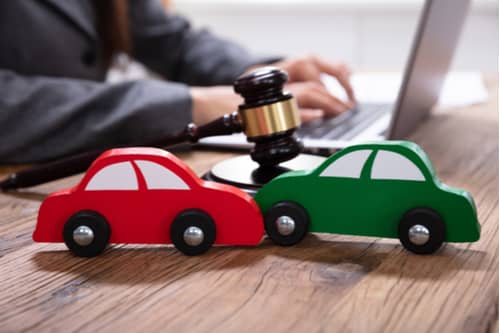 How Much Can I Expect to Receive for My Damages?
Every car crash on Atlanta roads is different. Various factors are considered when determining the amount of compensation for a car accident claim in Atlanta. They include liability, insurance policy limits, the injuries you've sustained, and property damage. An experienced auto accident lawyer in Atlanta can estimate your compensation by looking at the facts of your case.
What Type of Damages Can I Recover?
If you or your loved one have been involved in a wreck, you may be entitled to receive:
Economic Damages
These are monetary damages such as vehicle repair costs, medical bills, lost income, and lost benefits. Your lawyer will prove your claim with financial evidence, such as receipts.
Non-Economic Damages
These are intangible losses that are completely subjective. They include:
Emotional distress
Disability
Pain and suffering
Humiliation
In 2010, the Georgia Supreme Court declared the $350,000.00 cap on non-economic damages unconstitutional. Today, there is no cap on these damages in Georgia.
Punitive Damages
If the actions of the defendant are extremely reckless, you may receive punitive damages. Actions such as drunk driving may warrant these damages in Atlanta, Georgia.
How Is Fault Determined?
When determining fault, the state of Georgia applies modified comparative fault rules. Here, you may only receive compensation if your blame for an accident is less than 50%. Our knowledgeable car crash lawyers in Atlanta are ready to prove that the defendant breached their duty of care, resulting in your injuries and damages.
How Long Do I Have to File a Claim?
In Georgia, you have two years from the date of the accident to file a personal injury claim and four years to file a property damage claim. You should reach out to an Atlanta car accident lawyer before it's too late to receive compensation.
How Can a Lawyer Help Me File My Insurance Claim?
The process of filing an insurance claim involves complex paperwork. A lawyer can help you fill out these documents and file your claim on time. Seeking the help of an Atlanta accident attorney ensures you follow all the procedures required by the insurer.
What Can I Do If Insurance Denies My Claim?
If your claim has been denied, contact Hartley Rowe & Fowler immediately. We will look into the specifics of your case and advise you if you have a valid claim. Our car injury lawyers are ready to appeal the insurer's decision and represent you in court — if need be.
Do I Have a Case?
You may have a case if the defendant breached their legally obligated duty of care. Actions such as speeding, distracted driving, or drunk driving are considered negligent actions. If such actions lead to your injuries and damages, you may have a case.
What If the Other Driver Doesn't Have Insurance?
If the other driver doesn't have insurance coverage in Georgia, you may turn to your underinsured or uninsured policy. Here, your own insurance carrier covers your damages after a car crash in Atlanta, Georgia. Med Pay coverage may pay for your medical bills after a collision with an uninsured driver.
How Can I Obtain an Accident Report?
If you've been involved in a crash, you can get an accident report at Buycrash.com. Alternatively, you can reach out to your local police department in Atlanta to get your incident report.
Schedule Your Free Case Review With an Atlanta Car Accident Lawyer
You may be involved in a car crash that isn't your fault. During such times, you need to speak to a competent lawyer for car accidents who has your best interests at heart. The lawyers at Hartley Rowe & Fowler are ready to help you recover damages including medical bills, vehicle repair expenses, and your lost earning capacity.
Call us today at 678-825-6004 to speak to with an Atlanta car accident lawyer in Atlanta regarding your legal options. We are prepared to answer all your questions. Book your free case review now.