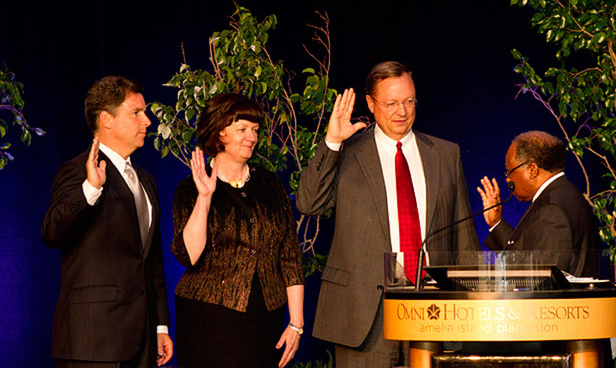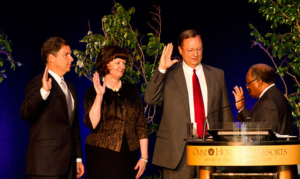 State Bar of Georgia, July 1, 2013: Hilton Head Island, S.C. – Robert J. "Bob" Kauffman of Hartley, Rowe & Fowler in Douglasville was installed as treasurer of the 45,000-member State Bar of Georgia on June 22 during the organization's Annual Meeting.
Kauffman, who served as secretary of the State Bar for the past year, previously served as the elected representative of the Douglas Judicial Circuit on the State Bar Board of Governors and has served as a member of the Bar's Executive Committee, chair of the Bar's Cornerstones of Freedom/Communications Committee, and as a member of the Advisory Committee on Legislation. He is also a Fellow of the Lawyers Foundation of Georgia and a past president of the Douglas County Bar Association.
His law practice is concentrated in the areas of commercial real estate transactions, real estate finance and estate planning. Kauffman is a graduate of Western Illinois University and the Walter F. George Law School at Mercer University. He was admitted to the Bar in 1988.
###