Personal injury lawsuits typically arise from accidents. If you have been seriously injured in Mableton due to someone else's recklessness or negligence, you could be entitled to financial compensation and the experienced Mableton personal injury lawyers at Hartley, Rowe, & Fowler can help you recover it.
We are dedicated to fighting for the rights of personal injury victims in Mableton, GA, and the surrounding areas. We understand that our clients have just one chance to get the compensation they deserve. We know how important it is to make it count. Contact us today to schedule your free, no-obligation consultation with an experienced lawyer.
What Should I Do After an Injury?
Here are the steps you should take after suffering an injury in Mableton, Georgia:
Get Medical Treatment
You need to get medical treatment if needed for your injuries without delay even if you don't think they are particularly serious or you feel okay. There are two key reasons for doing this:
To create a record of your injuries from a competent medical professional, which includes any diagnoses and treatment plans discussed.
Injuries can become worse over time and seeing a doctor can ensure that they are treated before getting more painful or expensive.
Take Photos/Video
Photo and/or video evidence can be incredibly helpful to your personal injury case. Photographic or video evidence can show exactly what the accident scene looked like immediately after you were injured. So, if you can, use your phone to take photos/video footage of:
The accident scene
Your injuries
Any damage to property
Any other details you think might be important (e.g. driver's license plate)
Get Names and Numbers of Any Witnesses
If there are any witnesses present, get their names and phone numbers. Witnesses can play an important role in your pursuit of compensation since they can help corroborate your version of events.
Report the Incident
You need to report the accident or incident to the appropriate authority depending on where it happened. If it is a car accident, you should report it to the police. If it is a workplace accident, you should report it to your supervisor, and so on.
Never Admit Fault
You must never apologize or attempt to take the blame for the accident. You should never admit fault since your utterances immediately after the accident can be used against you thus effectively ending your pursuit for compensation.
Call a Personal Injury Lawyer
If you haven't done it already, contact the experienced Mableton personal injury lawyers at Hartley, Rowe, & Fowler who have experience with your type of accident. We will help you every step of the way until you receive the compensation that you are rightfully entitled to.
Why Do I Need a Lawyer?
You might assume that you don't need to hire a lawyer to help you recover the compensation you are rightfully entitled to following your accident, but nothing could be further from the truth. You need to hire an experienced lawyer to help with the following:
Case Preparation/Filing a Lawsuit
Insurance companies would like you to believe that making a claim isn't complicated. However, that simply isn't true. If you have been injured in an accident, you may find yourself dealing with multiple insurance companies, thus making everything even more complicated.
Experienced personal injury lawyers, however, know how insurance companies operate and how the claims process works. Your lawyer can handle the claim process from speaking with insurance adjusters to negotiating a settlement of your claim.
Settlement Negotiation
If you don't have a lawyer representing you, you are at the mercy of the insurance company and they will take full advantage of your inexperience. Simply having a lawyer can help settle the case since the insurance company knows that you have a lawyer who is likely ready to file a lawsuit.
Experienced personal injury lawyers are also skilled negotiators and know when to make a counteroffer as well as when to accept the offer made by the insurance company.
Trial Preparation and Representation
If the settlement negotiations fail to bear any fruit, your lawyer can handle the legal proceedings in court. The court system in the United States is notoriously difficult for people that aren't lawyers, and even a single procedural error can result in case dismissal. If you have a lawyer representing you, your chances of getting a favorable verdict will be very high.
What Type of Damages Can I Recover?
Depending on your case, you may be able to recover three categories of damages.
Economic Damages
Economic damages are the financial losses incurred by the accident victim and include but are not limited to the following:
Past and future loss of wages
Property damage expenses
Past and future medical expenses related to the injury you sustained
Home or auto adjustment to accommodate your disability
Funeral and burial expenses in case of wrongful death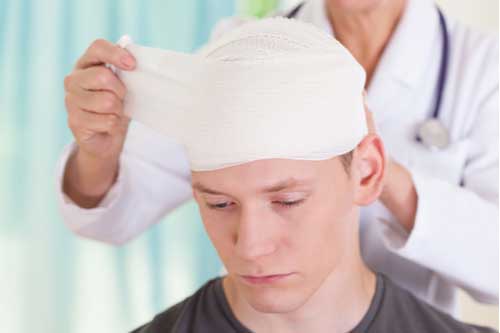 Non-Economic Damages
Non-economic damages revolve around the compensation that's less calculable and include but are not limited to:
Loss of consortium
Loss of companionship
Inconvenience
Pain and suffering
Pain and anxiety
Emotional Distress
Punitive Damages
Punitive damages are only available in personal injury cases where the defendant acted with malice, wantonness, willful misconduct, oppression, fraud, or conscious indifference to the consequences of their actions.
How Is Liability Determined?
Your Mableton personal injury lawyers will have to prove to the court the following elements of liability for you to receive a settlement award:
Duty of Care: It means that the defendant had an obligation to act in a way that would keep you safe.
Breach of Duty of Care: It means that the defendant failed to act reasonably and breached the duty of care they owed you.
Causation: it means that the defendant's conduct was the direct and proximate cause of your injuries.
Damages: It means that you can point to identifiable damages (financial, emotional, and physical) as a result of the defendant's conduct.
Under Georgia's modified comparative fault system, each party is liable to damages in proportion to their percentage of fault. So, if you are found to be 30 percent liable for the accident, a settlement of $100,000 would be reduced to $70,000.
How Much Time Do I Have to File a Personal Injury Claim in Georgia?
The statute of limitations is the amount of time you have to file your claim. In Georgia, it is 2 years from the date of the injury. However, there are exceptions to this, which is why you need to speak with a knowledgeable lawyer about the specifics of your case.
How Does the Personal Injury Claims Process Work?
The personal injury claims process starts with investigating the accident to determine what caused it and who is the responsible party. Evidence collection is key to winning your case. This step can be either time-consuming or fast, depending on the circumstances of your case.
You will then need to calculate the value of your claim by adding up all of your damages to come up with a fair compensation amount that covers the costs of your accident.
After gathering sufficient evidence to prove fault, your damages, and your injuries, and you have come up with a value for the claim, you can now file the claim paperwork.
Once you file the claim, settlement negotiations with the at-fault party's insurance provider will begin. Here, you will have the chance to present your evidence of fault, damages, and injuries, and make demand compensation.
You may receive a settlement offer that you and your legal team are satisfied with and then the claims process could end up with your acceptance of the offer. If settlement negotiations fail, your lawyer could file a case in court and take your pursuit of compensation there.
How Much Will a Mableton Personal Injury Lawyer Cost?
You might know about the benefits of hiring a personal injury lawyer, but are concerned about how much it costs to actually hire one. Fortunately, personal injury lawyers in Mableton, including those at Hartley, Rowe, & Fowler handle cases on what's known as a "contingency fee basis."
It essentially means that the lawyer's pay is contingent on the amount of money they are successful in recovering for you.
Types of Personal Injury Cases We Handle at Hartley, Rowe, & Fowler
Our Mableton personal injury lawyers can help you with all types of personal injury claims. We have helped clients with claims involving:
Slip and Fall Accidents
Nursing Home Injuries
Motorcycle Accidents
If you have been injured in these, or any other type of personal injury accident, get in touch with Hartley, Rowe, & Fowler today. We can help you review your legal rights and find the best options for you and your loved ones.
Work With an Experienced Personal Injury Lawyer in Mableton, GA
If you or a loved one have been injured in an accident caused by another party's negligence or recklessness, you have the right to seek compensation for your injuries and damages through a personal injury claim.
To learn more about the personal injury claim process in Georgia and what to expect given the specific circumstances in your case, contact our team of experienced personal injury lawyers at Hartley, Rowe, & Fowler today for your free consultation and case evaluation.