Accidents happen every day in Georgia. They happen despite the rules and regulations set up to protect people and prevent such accidents from happening. Regrettably, some of these accidents are caused by the reckless actions of other parties. If you or your loved one has sustained an injury and you believe another party is to blame, reach out to a South Fulton personal injury lawyer today to find out if you have a case.
The legal team at Hartley Rowe & Fowler can help you find out your rights and responsibilities after an accident. We understand how the personal injury process can be overwhelming for victims. Our attorneys are ready to handle everything on your behalf, making it possible for you to focus on your health and recovery.
Call 678-825-6004 today to book your free case review. Our attorneys in South Fulton will guide you throughout the claims process. Get started now to find out if you have any legal options.
What Should I Do After an Injury?
It's normal for one to panic after an injury. You may feel overwhelmed with what has happened as thoughts rush through your mind. Nonetheless, it's important to remain calm and figure out what you should do after an injury.
Always remember that whatever you do after an injury can significantly affect the trajectory of your claim. Here's what the personal injury attorneys at Hartley Rowe & Fowler advise you to do after an injury in South Fulton:
Get Medical Treatment If Needed
Your health and wellbeing should be your first priority after an injury. Seek medical care if you have sustained an injury. Never disregard medical care because your injuries seem less severe. You aren't a trained medical professional to self-diagnose your injuries. Let a doctor run all necessary tests to ascertain if you need treatment.
Take Photos/Video If You Can
If you have a smartphone or camera, make sure you capture all types of photographic evidence at the scene of the accident. Evidence such as visible injuries, skid marks, defective products, or hazards like missing guardrails can help to establish liability.
Taking pictures of your injuries can help prove how severe they were at the time of the accident. If you don't take pictures while at the scene, your injuries may heal, making it harder to prove the severity of your injuries.
Get Names and Numbers of Any Witnesses
After an accident, make sure you talk to any witnesses at the scene. Their accounts of what happened can help to prove the other party's fault. Get their contact information, including addresses and phone numbers, before they leave the scene.
Report the Incident
It's important to contact the police after a car accident. Leaving an accident before the police arrive isn't advisable. Such cases may be treated as hit-and-run accidents.
Law enforcement officers will prepare an incident report that your insurance carrier may require. This report may also contain details that can help to establish liability.
If you have sustained an injury while at work, report the injury to your supervisor immediately. Don't disregard any injury you suffer in the workplace. In Georgia, you have 30 days to report an injury and one year to file a workers' compensation claim using the WC-14 Notice of Claim form.
Never Admit Fault
Be wary about what you say after an injury. Admitting fault to other parties at the scene of an accident, such as insurance adjusters or the other party's attorneys, can jeopardize your South Fulton personal injury claim. Most importantly, don't apologize to other involved parties. This can be construed as a sign of guilt.
Call a Personal Injury Lawyer!
The personal injury lawyers at Hartley Rowe & Fowler are a phone call away. We can offer you sound legal advice if you have been injured in South Fulton, GA. Our lawyers will look into the facts of your case and offer counsel regarding the best legal options for your claim. We will advise you if you have a valid claim.
Why Do I Need a Lawyer?
Representing oneself in a personal injury case isn't advisable. Personal injury laws in Georgia can be complicated. You require the help of an experienced lawyer from South Fulton to help you get the justice you deserve.
At Hartley Rowe & Fowler, our legal team is prepared to help you in the following ways:
Case Preparation / Filing a Lawsuit
Building an airtight case is critical in any legal case. Our lawyers are prepared to dig through all pieces of information to prove that the defendant's recklessness led to your injuries. We will analyze CCTV surveillance, medical records, cell phone records, and police reports to prove the other party's negligence.
Settlement Negotiation
Once we've discovered who is to blame for your injuries, we will determine the value of your claim and file a demand letter to the insurance provider. We will handle settlement talks, making sure you get what you rightfully deserve.
Trial Preparation & Representation
If out-of-court talks don't work out, our legal team is prepared to file a lawsuit against the defendant. We are prepared to interview expert witnesses, such as police officers, doctors, labor experts, and accident reconstructionists, to prove that the defendant's negligence led to your injuries.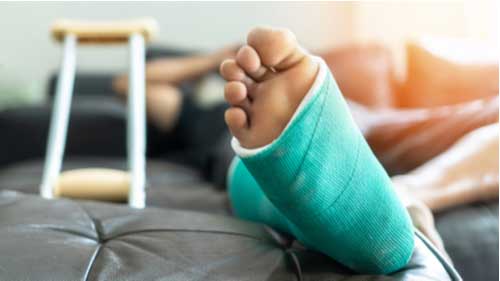 What Type of Damages Can I Recover?
You may be eligible to receive compensation for your injuries in Georgia. A knowledgeable South Fulton personal injury lawyer can help you to recover damages after an injury. Here are some of the damages you may be entitled to:
Economic Damages
These types of damages have fixed price tags. The value of economic damages can be quantified in dollars. They include:
Medical bills (past, present, and future)
Funeral expenses
Property damage
Lost income
Non-Economic Damages
These damages are immeasurable. They are harder to quantify since they are subjective. For instance, putting a price tag on the pain one feels after losing their limb can be tricky.
Here are some of the non-economic damages you can recover in South Fulton, GA:
Pain and suffering
Humiliation
Emotional distress
Disability
Punitive Damages
Punitive awards are meant to serve as punishment for extreme recklessness. They are awarded to deter defendants from repeating similar actions in the future. In Georgia, there's a $250,000.00 limit for these damages with an exemption for product liability and drunk driving cases.
How Is Liability Determined?
Georgia uses the modified comparative negligence system when determining liability. Under this doctrine, you may be eligible for compensation if your fault in an accident is less than 50%. An experienced South Fulton personal injury attorney will use these four elements to determine liability:
Duty of Care: As a plaintiff, you must prove that the defendant owed you a duty of care.
Breach of Duty of Care: Here, you must establish that the defendant's actions or inactions breached their duty of care.
Causation: The accused's actions led to your injuries.
Damages: In a personal injury claim, you must prove the defendant's actions led to damages, like medical expenses and lost income.
How Much Time Do I Have to File a Personal Injury Claim in South Fulton?
Every U.S. state has a deadline for filing personal injury claims. In Georgia, you have two years from the date of your injury to file a claim. If you don't file your claim on time, Georgia courts will restrict you from receiving any compensation.
For property damage claims, you have four years from the date of the accident to file your claim.
How Does the Personal Injury Claims Process Work?
At Hartley Rowe & Fowler, our personal injury attorneys in South Fulton can help you throughout the entire claims process. We will gather relevant evidence pertaining to your claim and work tirelessly to prove fault. Our legal team will speak to witnesses to understand everything about your personal injury claim. We will also analyze your medical and employment records to determine the value of your claim.
Once we are done, our lawyers will file a personal injury claim and push for the best compensation for your damages. If this isn't a feasible option, our personal injury trial lawyers in South Fulton will represent you in court.
How Much Will a South Fulton Personal Injury Lawyer Cost?
At Hartley Rowe & Fowler, we don't charge any initial fees for our legal services. Don't hesitate to reach out for legal help because you think it may be too expensive. Our reliable law firm in South Fulton operates on a contingency fee basis. Here, you will only pay for our services once we secure a favorable personal injury settlement.
Call Our South Fulton Personal Injury Lawyers Today to Get Started
Have you or someone you care about been hurt by the reckless actions of someone else? You may have legal recourse. An experienced personal injury lawyer from South Fulton can guide you throughout the claims process.
Contact us today at 678-825-6004 to book your free case review. Let us help you recover your medical bills, lost income, and any property damage. If there is gross negligence on the defendant's part, Hartley Rowe & Fowler will pursue punitive damages on your behalf.