Getting involved in a traffic accident is never a good thing, but collisions with large commercial vehicles can be especially dangerous due to the size and velocity of these vehicles. If you have been involved in such an accident, or have a family member who has been injured or killed in a truck accident the implications can be very serious.
The aftermath of a collision with a large commercial vehicle is often a time of confusion, anger, and even deep sorrow. It can be difficult to know how to react and especially how to protect your rights and the rights of your loved ones. For this reason, the experienced Villa Rica truck accident lawyers at Hartley, Rowe & Fowler are here to represent your interests and see to it that your rights to compensation are fully respected.
If you need legal assistance after a truck accident, call our Villa Rica personal injury lawyers at 678-825-6004 and arrange for a FREE consultation today!
What Should You Do After a Truck Accident in Villa Rica, Georgia?
There is typically a certain degree of mental confusion following an accident of any type, but the larger the accident the greater the mental impact. For this reason, it is easy to become confused and uncertain of what to do next in the event of a truck accident.
But we here at Hartley, Rowe & Fowler are here to provide some scope and direction at this difficult moment. Following are some important points to keep in mind to preserve the integrity of your case and ensure the best chances of full compensation for your losses, damages, and injuries.
Call 911
Injuries sustained in a truck accident can be mild or severe, but either way, you should have your injuries examined by a team of medical professionals. Local law enforcement should also be summoned to the scene of the accident to make a report that will play an important role in your case and imminent lawsuit.
Help Others
If your injuries permit it, see to the safety and wellbeing of others who were involved in the accident. But be very careful when making your way around the scene of the accident as there may be traffic and possibly hazardous substances released from the commercial vehicle.
Exchange Info
Ask the driver of the commercial vehicle for their name, contact information, and the name and information of the insurance provider for their vehicle. Taking a snapshot of the license plates is also a good idea.
Document the Scene
A strong case is built on strong evidence. Using the camera on your mobile device, take as many pictures of the scene of the accident as you can. Get some close-up shots of the damage to vehicles, skid marks, and road debris. Take a few more snapshots of the vehicles in relation to each other as well as any traffic signals in the vicinity. Get contact information from as many eyewitnesses as you can, their testimony could be crucial to building a strong case in your favor.
Seek Medical Attention
You may think that your injuries are minor, but you can't be sure. Certain types of internal injuries may not be apparent right away. Internal bleeding and brain damage can remain hidden just long enough to cause serious problems in a short time. AQ medical professionals can provide you with a full report on the injuries sustained in the accident, this will also play an important role in calculating your due compensation.
Contact an Attorney
You may be approached by the insurance provider from the truck company who is ready to make an offer of settlement. Invariably, the insurance adjuster will offer a figure that is considerably lower than the full compensation you deserve and it would not be in your interests to accept this.
Simply tell the insurance adjusters that they can speak with your lawyers and call 678-825-6004 right away. Let an experienced Villa Rica truck accident lawyer from Hartley, Rowe & Fowler handle the legalities while you focus on making a full recovery.
What Are the Laws Regarding Truck Accident Liability?
In the state of Georgia, the concept of "modified comparative negligence" is applied when assigning liability in personal injury law. This means that anyone involved in the accident can claim compensation for their injuries if they are less than 50% responsible for the accident. However, the compensation is reduced by their percentage of liability in the accident.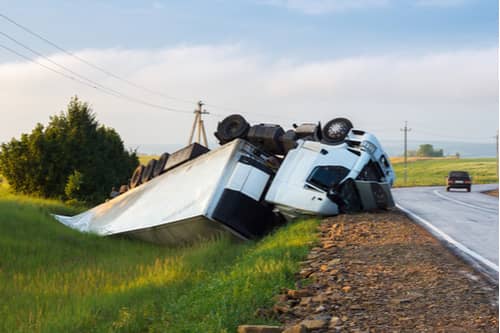 How Can a Villa Rica Truck Accident Lawyer Help?
An experienced truck accident can help you navigate the complexities of personal injury and help you find your way to the compensation to which you are entitled. At Hartley, Rowe & Fowler, we can help you:
Conduct a Thorough Investigation
These cases are never as simple as they seem. We will apply our skills and resources in investigating the incident and listing the various situations, individuals, and entities responsible for your injuries.
File Your Claim
Many important details go into filing a claim and only extensive experience can ensure that this is done properly. We will ensure that this process is completed with the utmost attention to detail and this will greatly improve our chances of full compensation.
Negotiate With the Opposition
Commercial trucking companies are required by law to carry high-value coverage due to the considerable damage these vehicles can cause. For this reason, insurance adjusters for the opposition will be especially adamant in protecting their interests and avoiding payouts. But we have no fear of their ploys or intimidation tactics and will defend your interests skillfully and aggressively.
Take the Case to Court
In most cases, a settlement can be reached through negotiations. But if this will not be possible, we prepare all of our cases as if they will be taken to court. Here is where the experience and professionalism of our truck accident lawyers will be crucial to turning the wheels of justice in your favor.
Who Can Be Held Liable in a Villa Rica, GA Truck Accident?
It is not always easy to determine who is responsible for a commercial truck accident at first glance. Here are some of the most common culprits for this type of accident:
Truck Driver
The truck driver can be responsible for the accident if they are not adhering to the traffic regulations or safety guidelines for commercial trucking.
Trucking Company
There are safety guidelines in commercial trucking that set limits for time on the road, weight, and many other specifics. To increase their profits, some trucking companies will ignore these guidelines and pose a serious threat to traffic safety.
Company Who Loaded the Truck
If a commercial truck is not properly loaded, the physics of the truck in motion can be greatly affected. This could cause the driver to lose control when moving at high speeds and set the scene for a serious accident.
Vehicle or Parts Manufacturers
Commercial trucks rely on countless components to operate properly. If these components are faulty or haven't been installed properly, the function of the truck can be skewed. If an accident ensues due to faulty components, the manufacturers of the faulty component or mechanics who serviced the truck could be responsible for damages.
What Are Common Causes of Truck Accidents?
Some of the common causes of truck accidents in Villa Rica, Georgia include:
Driver Fatigue
Reckless Driving
Distracted Driving
Improperly Secured Freight
Drug Use
Inexperienced Drivers or Drivers With Poor Training
Poor Road Conditions
Equipment Malfunction
Lack of Truck Maintenance
Call Our Villa Rica Truck Accident Lawyers Today
There are plenty of large commercial vehicles making their way through and around Villa Rica, Georgia at any given time. Commercial vehicles can have a GVWR of 10,000 pounds, but many weigh far more than this. A fully loaded semi can have a GVWR of 80,000 and cause extensive damage if moving at high velocities and out of control.
At Hartley, Rowe & Fowler, we fully understand how devastating trucking accidents can be. Injuries sustained in a commercial truck accident can cause extensive damages with effects that last a lifetime. If you and your family are facing injuries, damages, or even loss of loved ones, take your right to compensation seriously. We will not charge you anything upfront or anything at all unless we win your case and deliver the compensation due.
Call our reputable law offices at 678-825-6004 and arrange for a FREE consultation with a Villa Rica truck accident lawyer. We will help you understand the details of your case from a legal perspective and provide you with the best possible solution.