Personal injury law, otherwise known as tort law, protects the rights of individuals who've been injured or had property damaged because of the negligence of another party. In Georgia, you are entitled to seek financial compensation for damages suffered due to another's actions or failure to act. However, navigating this intense legal process can be very stressful and overwhelming which is you need to involve an experienced Villa Rica personal injury lawyer when dealing with a personal injury claim.
You don't have to bear the burden of another person's negligence on your own. Our team of experienced personal injury attorneys at Hartley Rowe & Fowler are prepared to do whatever it takes to ensure that you get the justice and financial compensation that you deserve. Call us today at 678-825-6004 for the best legal representation in Villa Rica.
What Should I Do After an Injury?
After suffering a personal injury, there are some steps you need to take to safeguard your wellbeing and protect your legal rights:
Seek urgent medical attention if needed and keep records of all treatment.
Record the scene. If you are physically able to do so, take photos and videos of the accident scene and note down any important details.
Collect the names and contact details of any witnesses present at the scene.
Report the Incident. Report a car accident to the police and report a workplace accident to your supervisor or employer.
Do not apologize or admit any fault for the accident.
Hire an experienced Villa Rica personal injury lawyer as soon as possible.
Why Do I Need a Lawyer?
Here are some of the benefits of hiring an experienced Villa Rica personal injury attorney:
Case Preparation / Filing a Lawsuit
When it comes to filing a personal injury claim, you need to ensure that you have adequate evidence and facts to support your claims. Our attorneys will prepare your case as if it is going to trial. We will conduct a thorough investigation into your case, leaving no stone unturned when gathering the required evidence. Once this is done, we will help you file all the necessary paperwork for a personal injury lawsuit against the liable party.
Settlement Negotiation
Insurance companies are businesses and it is in their best interest that they pay the least possible amount when settling cases. They are known to pressure naive victims into accepting lowball offers. However, our attorneys know how much your claim is worth and will negotiate aggressively to ensure that you get a fair settlement offer.
Trial Preparation & Representation
While most cases end in settlement, in some cases, your attorney may determine that taking your case to trial is your best option. Attorneys who have experience handling cases in court will be able to fight for your rights to the very end. We will adequately prepare your case for trial and present a strong argument to the judge/jury.
What Type of Damages Can I Recover?
There are three main types of damages that you can recover in a Villa Rica personal injury claim:
Economic Damages
Economic damages are meant to reimburse you for monetary and verifiable losses suffered as a result of your personal injury. This can include past and future medical expenses, rehabilitation costs, lost income, loss of earning capacity, etc.
Non-Economic Damages
Non-economic damages are meant to compensate you for non-monetary and unverifiable losses you've suffered as a result of your personal injury. This can include pain and suffering, loss of enjoyment of life, emotional distress, etc.
Punitive Damages
Punitive damages aren't always available in personal injury cases. It has to be proven that the defendant acted in a malicious, reckless, intentional, or grossly negligent manner. The state of Georgia limits the maximum awardable amount in punitive damages to $250,000 with only a few exceptions.
How Is Liability Determined?
Just because someone else's actions led to your injuries and losses, it doesn't mean that they are necessarily liable for the resulting damages. You also have to prove the following elements of negligence:
Duty of Care: Did the defendant have a moral or legal obligation to ensure your safety in that situation?
Breach of Duty of Care: Did the defendant violate their duty of care?
Causation: Is there a causal connection between the defendant's actions and your injuries?
Damages: Did you suffer legally compensable damages as a result of the defendant's negligence?
Georgia is a modified comparative negligence state which means that you can pursue damages even if you are partially at fault for the accident. However, your level of fault should be less than 50% of the shared fault. Your level of compensation will be reduced according to your percentage of fault. This also means that you can hold the other party liable if you are found to have been equally at fault for the accident.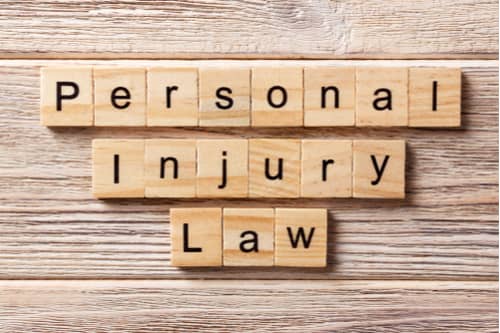 How Much Time Do I Have to File a Personal Injury Claim in Georgia?
How long you have to file a personal injury claim is stipulated in Georgia's statute of limitation. And it states that you have up to two years from the date of the accident to file a personal injury claim.
What Is the Personal Injury Claims Process in Georgia?
First, you need to inform your insurance company of your injury and intention to file a claim. Most insurance companies require that you notify them within 72 hours of the accident. Let your attorney do this on your behalf to avoid providing statements that may jeopardize your claim.
Once your Villa Rica personal injury lawyer has completed investigating your case and has all the relevant facts and information, they will draft a demand letter to send to the insurance company. The demand letter will include details about your accident and injuries and will also include details about the types of damages you've suffered (including medical bills, lost wages, expenses, etc.) and the demand for compensation.
After receiving the demand letter, the insurance company may choose to accept your demands or initiate negotiations.
If a settlement can't be reached upon through alternative dispute resolution techniques, then your case may be moved to trial. Here, your attorney will submit a legal complaint to the local court where the accident happened containing details of your accident, your losses, and the amount you are seeking as compensation.
During the trial, both parties will have the opportunity to argue their case and present all the supporting evidence. The jury will then make the final decision.
How Much Will a Villa Rica Personal Injury Lawyer Cost?
Many accident victims fail to hire a personal injury lawyer fearing that it might be expensive. These victims almost always end up not getting the justice that they deserve. What they don't realize is that most professional personal injury attorneys, including us, operate on a contingency basis.
This means that you don't have to pay a single cent to retain our services and payment is only done once we've secured a favorable settlement or won your case. Essentially, you have nothing to lose by hiring the expert services of a personal injury attorney.
Types of Personal Injury Cases We Handle at Hartley Rowe & Fowler Law Firm
We represent the victims of many types of accidents. The following are some of the most common personal injury cases we handle.
Automobile Wrecks
Motor vehicle accidents are currently the leading cause of injury deaths in the state of Georgia. Car accident claims are some of the most common personal injury claims we handle.
Tractor-Trailer Wrecks
Tractor-trailer accidents are some of the most serious and devastating accidents on our roads. This is because of the size and weight of the vehicles involved. If you've been injured in a tractor-trailer accident we can help you get the maximum compensation that you deserve.
Slip and Fall (Premises Liability)
It is the duty of every property owner to ensure that they maintain safe conditions within their premises for everyone visiting or using their property. When this doesn't happen, one has grounds to bring forth a premises liability claim against the owner.
Product Liability Cases
Product manufacturers and suppliers have a legal obligation to ensure that the products that they sell to the end consumer are safe for use. If you've been injured as a result of a faulty or dangerous product, we can help you hold the liable parties accountable
Dog Bites and Animal Attacks
Dog attacks are quite common and they can be deadly. Any pet owner with a dangerous pet needs to ensure that it is properly restrained and doesn't pose a threat to other people. If you've suffered harm as a result of an irresponsible pet owner, we can help take appropriate legal action against them.
Medical Malpractice
Medical professionals are held to a certain standard of care. These are the people that we most trust with our lives. If you've been the victim of medical malpractice, we can help you get the justice that you deserve.
Wrongful Death
Georgia law defines wrongful death as a death caused by a crime, an act of negligence, or by a defective product. Our lawyers can help if you've lost a loved one due to another party's careless or reckless actions.
An Experienced Villa Rica Personal Injury Lawyer Can Help!
When preparing for your day, the last thing on your mind is getting injured or even facing death while on your daily routine. However, injuries do happen and in the most unlikely of places. If you've been harmed as a result of the negligent or intentional actions of someone else, we can help.
Our experienced attorneys at Hartley, Rowe & Fowler know what it takes to successfully litigate personal injury cases. Get in touch with us today at 678-825-6004 to schedule your free consultation.