No one is ever prepared for an auto accident and its effect on their life. Victims often suffer severe injuries leading to hefty medical expenses. In such cases, you need to hire a Douglasville car accident lawyer to help you recover compensation. But unfortunately, most injury victims do not know when to get legal representation.
The moment a car accident occurs, the clock starts ticking. You'll begin to get financial hits immediately due to your injuries. Some of them include medical bills, lost wages, car repair, etc.
Hiring a lawyer doesn't guarantee a specific outcome for your case. However, they can help you handle the legal process while prioritizing your physical recovery. Keep reading to discover when to get a lawyer for your auto accident.
Why Is It Important to Contact a Douglasville Car Accident Lawyer After a Crash?
As a victim, you usually have a lot to deal with after an accident. You might have severe injuries and wonder if you can go back to work and how to pay medical bills. In the midst of all this, it's crucial to speak to an attorney.
Below are some reasons you should contact a lawyer after an auto accident.
Evidence Can Fade
Evidence may go missing or deteriorate if not kept well. If you hire an auto crash lawyer immediately after the accident, your lawyer will gather the evidence before it loses value.
Witness Memories Sometimes Fade
Eye-witness testimony is one of the most crucial pieces of evidence in a car accident claim. However, it is normal for memories to fade after a while. The accident witnesses might not remember crucial details like who was speeding and if the at-fault party was distracted during the accident. So, it's essential to begin the claims process early.
A Lawyer Helps Manage the Insurance Company
The negligent party's insurance company might contact you immediately after the crash even if you don't have an auto accident lawyer. They'll often try different strategies to make you discount your claims.
For example, they might take words out of context or offer you a low settlement. Your Douglasville car accident lawyer can speak to the insurance company to ensure you receive full compensation for your injuries.
Statute of Limitations
In Georgia, accident victims have only two years from the accident date to file a claim. This is the Statute of Limitations, and once it expires, you can no longer receive compensation. While two years sound like a long time, filing a claim usually takes a while.
Your auto accident attorney needs to collect evidence, consult with experts, etc. These processes take time, so y contact an attorney immediately after your accident for them to take necessary action in time.
When to Call a Douglasville Car Accident Lawyer
Not everyone who's been in a car accident seeks legal representation. However, in severe car accident cases, you should contact an auto accident lawyer as soon as possible. In addition, if any of the situations below apply to you, you should contact an attorney immediately.
Accidents that cause significant injury to you or a loved one
Accidents where the fault is not established
Accidents involving another vehicle, pedestrian, cyclists, etc
Collisions in a school, work zone, or construction zones
Accidents involving an uninsured/underinsured driver
Accidents where insurance companies try to offer you low to no compensation
While some fender-benders do not require the assistance of an attorney, there are circumstances where a lawyer's services would be invaluable after a minor accident. Some of these circumstances include:
Minor auto accidents leading to significant property damage
Minor collisions leading to injuries to you or your passengers
When an accident results make you take time off work
When dealing with insurance policy limits and car repairs after a minor accident
Contacting a Douglasville auto accident attorney gives you a better chance of receiving fair compensation.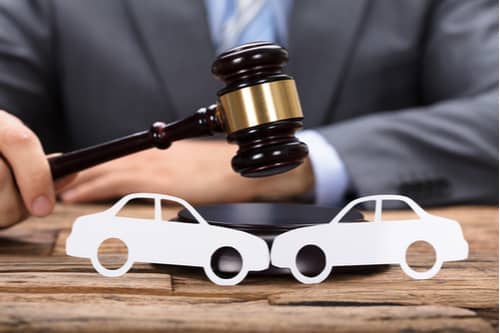 What You Need to Provide Your Lawyer
To ensure that seeking compensation goes smoothly, you should provide your auto crash lawyer with the following information.
Contact information
Crucial details about your car accident case
The police report
Your medical records
Medical receipts and other financial documents
Photos of property damage and accident scene
Eye witness statement and contact information
How Your Douglasville Auto Accident Attorney Determines Compensation
There are different compensation you can seek after an auto accident. Your lawyer will evaluate what the maximum compensation should be. Some of the common types of compensation after an auto crash include:
Medical Expenses: The cost of medical bills usually makes up large portions of your claim. Your lawyer could work with your doctor and other experts to determine your current and future medical expenses. They will also consider if you'll need medical equipment, like a wheelchair to get around, and include it in the settlement demand.
Lost Wages: Car accident victims are usually unable to return to work for weeks, days, or even months. Therefore, your auto accident lawyer will calculate your lost wages for the time away from work.
Property Damage: Sometimes, your vehicle sustains immense damage from an auto accident. If your car requires significant repair or replacement after an accident, your lawyer will include the costs in your compensation.
Pain and Suffering: Injuries can be so severe that they result in much pain and suffering. The court usually recognizes this as a loss, and you can seek compensation for it.
Although these are some common types of compensation, there are many more you can ask for. After reviewing your case, your auto accident lawyer will advise you on the proper settlement to claim. If the evidence supports it, they will also recommend asking for punitive damages
Hartley, Rowe, and Fowler P.C. Can Help With Your Case
If you or a loved one was in an auto accident and suffered severe injuries, you might find it hard to deal with the financial consequences. However, if you're not at fault for the crash, you deserve fair compensation to deal with costs and get your life back on track.
Our legal team at Hartley, Rowe, and Fowler P.C. can help you with your car accident claim. We handle different personal injury cases, including auto accidents. You should never let a negligent party get away with causing you losses and not facing legal consequences.
At HRF Legal, we offer free case reviews to help you understand your legal options. We also work on a contingency fee basis, meaning you don't pay us until we win. Contact us today to start building a case with a personal injury lawyer in Douglasville, Georgia.