Losing a loved one is a sad, traumatic, and life-changing experience under any circumstance. However, it becomes more traumatizing when their death was another person's fault or recklessness. In such cases, a Douglasville wrongful death lawyer can help you fight your claim.
When these events occur, the district attorney's office may choose to bring criminal charges against the reckless party and make them stand a criminal trial. Civil claims can also be brought against the responsible party to provide monetary compensation to the dead party's family members. Such charges are known as wrongful death lawsuits.
If you have lost a loved one due to another person's fault, you may want to know if you're eligible to file a wrongful death claim to get justice. Unfortunately, not everyone can file a wrongful death claim. This article will explain who can and can't file a wrongful death claim.
Understanding Wrongful Death Claims
In legal terms, death is termed 'wrongful' if it occurs due to another party's negligence, misconduct, or recklessness. Wrongful death lawsuits are brought against an individual(s) whose action or inaction, such as murder, medical malpractice, automobile accident, etc., resulted in the death of another individual.
Persons, businesses, and governmental agencies can be liable for acting negligently. The ability to file a wrongful death lawsuit is a relatively recent concept. This type of lawsuit was not permitted under 'common law' (the laws imported to the United States from England).
However, state and federal courts established the right to file a wrongful death lawsuit throughout the last century. Every state in the United States now has a wrongful death law, including Georgia.
To hold the defendant accountable in a wrongful death suit, the plaintiffs (typically through the estate of the deceased victim) must bear the same burden of proof that the victim would have if they had lived. So, in the case of negligence, it would mean proving that the defendant owed the victim a duty of care and the defendant breached that obligation.
The plaintiff would also show that the violation was directly the cause of the death, and they suffered damages as a result. Nothing can bring back a dead loved one or lessen the grief.
However, you may incur financial losses in the form of medical expenses before the death, funeral costs, and loss of income. As a result, you may recover the following monetary compensation:
Pre-death pain and suffering
Medical expenses
Funeral and burial costs
Loss of inheritance because of the death
Value of the services that the deceased would have provided
Loss of care and love the deceased would have provided
Loss of love and companionship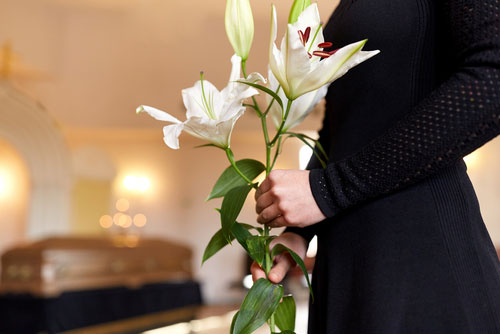 Who Can File a Wrongful Death Claim in Georgia?
Technically, a dead person cannot file a wrongful death suit. It, therefore, begs the question of who is qualified to do so. The answer typically depends on the state where the deceased resided.
Each state has laws governing wrongful death claims, and the legal and procedural rules vary from one state to another. Below, our Douglasville wrongful death lawyer explains who is qualified to file a wrongful death claim in Georgia.
 Spouse and Other Family Members
In Georgia and many other US states, the spouse and other surviving family members of the decedent are allowed to file a wrongful death claim. However, each state has its laws regarding which family members are prioritized. In most cases, the surviving family member must be a direct relative of the dead, such as children, biological or stepparents, or spouses.
In Georgia, the surviving spouse, child (or children), and parents can file a wrongful death lawsuit directly. However, siblings have to file the lawsuit via estate. Grandparents are not permitted to sue.
A Personal Representative From Decedent's Estate
In Georgia, the decedent's estate is qualified to file a wrongful death lawsuit. These suits compensate the estate for any losses suffered as a result of the victim's death. A personal representative of the estate may file this action.
A personal representative is a law firm or individual acting as the executor of the decedent's estate. This person is named as the executor (or 'executrix' for female executors) in the will of the deceased.
Where there is no will before death, people can apply to the court for the position of personal representative. In such cases, the personal representative is referred to as the administrator (or 'administratrix' for females).
Statute of Limitations for a Wrongful Death Lawsuit in Georgia
The Statute of Limitations to file a wrongful death claim in Georgia is two years from the day the individual died. Circumstances could, however, make that time shorter or longer.
If a government agency is at fault for the death (for instance, if a government vehicle killed the individual), the Statute of Limitations could be shorter. In such an instance, you might have six months or a year after the incident to file an action. The time limit depends on whether the federal, state, county, or city government is to blame.
You may lose your right to a legal remedy for the decedent's death if you wait too long to bring a wrongful death lawsuit or if you fail to comply with any pre-lawsuit notice requirements. An experienced Douglasville wrongful death lawyer will be able to answer any queries you may have.
Should You Hire a Douglasville Wrongful Death Lawyer?
Most victims opt for self-representation in personal injury claims instead of hiring an attorney, but you should not tow this path for a wrongful death action. The latter is more complex and requires the expertise of an attorney. One fundamental way a lawyer would help you is by presenting evidence.
In wrongful death actions, you do not only have to show that the defendant caused the accident that injured the decedent. You must prove that those wounds caused the person's death. A lawyer knows the evidence needed to back this up and will provide it.
Also, an attorney will tell you if you have the right to sue to avoid wasting time. Finally, wrongful death attorneys work on a contingency fee basis, so you don't have to worry about upfront legal fees.
Contact the Best Douglasville Wrongful Death Lawyers Today!
Handling the entire legal process is probably the last thing you want to do after the death of a loved one. Therefore, contact the best Douglasville wrongful death lawyers to help you fight your claims.
At Hartley, Rowe & Fowler, we are dedicated to helping victims fight for their rights. Respect, compassion, and aggressive representation are what you can expect from our personal injury attorneys in Douglasville, Georgia. Contact us today for a free case review.