Car accidents can cause serious injuries and property damage or loss no matter how seemingly minor they appear to be. Fortunately, the law in Georgia recognizes the fact that car accident victims should not have to pay for those injuries and property damage/loss on their own. A Villa Rica car accident lawyer can help victims recover the compensation they deserve.
If you were recently involved in a car accident in Villa Rica that wasn't your fault and you suffered injuries and/or property damage or loss, our lawyers at Hartley Rowe & Fowler want to help you. We have the skills needed to pursue all the compensation that you are entitled to receive. To learn more, contact our Villa Rica personal injury lawyers today for your free consultation and case evaluation.
Car Accident Statistics
2020 was one of the deadliest years on Georgia's roadways. The state reported about 1,700 fatalities on the roadways, which is a number higher than the 1,491 of 2019 and 994 of 2018. By June 2021, the state had reported 733, which is higher than a similar period one year ago. By June of 2020, a total of 600 fatalities had been reported. At this rate, the total for 2021 may surpass that of 2020.
How Much Does a Car Accident Lawyer Cost?
Car accident lawyers in Villa Rica typically operate on a contingency fee basis. The fee is only charged if the lawyers are able to successfully recover compensation for you. So, if the car accident lawyer is unable to recover compensation, you won't owe them anything. If you recover compensation, the lawyer's fees are deducted from the amount you receive.
What Should I Do After a Car Accident?
You should take several important steps after being involved in a Villa Rica car accident:
Contact Police
You should first contact the police immediately after being involved in an accident, even if it is a minor one. You need to make sure that you report it to the appropriate authorities to avoid legal repercussions later on.
Check on Other Involved Parties
You must never flee the scene of an accident. Ensure that you check on other parties involved in the accident to see whether any immediate medical attention is needed. Try not to move any of the vehicles involved unless they are causing harm to other road users.
Exchange Information
You need to exchange your registration and insurance coverage information with the other driver. It is important that you do this, regardless of who is the at-fault driver. You will require the other driver's insurance information for the insurance claims process.
Record the Scene
If you are able to, try taking pictures and/or video footage of the accident scene from multiple angles, including the vehicles involved and the surrounding environment. If possible, you can also try capturing other factors that may have contributed to the accident.
Never Admit Fault
Don't talk to the other party until the police arrive and don't admit fault or even try to apologize for what happened. Avoid discussing the details of what happened when talking to the police and wait for your lawyer to handle the matter.
Seek Medical Attention
You need to seek medical help immediately, whether your injuries are major or minor. It will also help you build a strong case for claim settlement. Don't forget to keep all records of treatment since it will be valuable evidence when pursuing your compensation claim.
Call a Car Accident Lawyer!
You also need to get in touch with the experienced Villa Rica car accident lawyers at Hartley Rowe & Fowler as soon as you can to help you pursue your claim for compensation.
What Is the Average Settlement for a Car Accident?
The settlement amount usually depends on your case and the damages inflicted. If you want to ensure that you get the maximum settlement, you need to create a strong case and hire an experienced lawyer to represent you.
When Should I Get a Lawyer for My Car Accident?
If any of the following apply to your situation, you need to call a lawyer immediately:
Any accident that causes you or someone else a serious injury
Any accident in a school zone
Any accident involving an uninsured or underinsured driver
Any accident where you disagree with the police report
Any accident in a work or construction zone
Any accident involving another motorist such as a truck, other cars, a pedestrian, or cyclist
Any accident where fault isn't clearly established
Why Do I Need a Lawyer?
You need to hire a lawyer for the following reasons:
Case Preparation
If you hire a car accident lawyer, they will prepare the case for you and file a lawsuit if and when necessary. The lawyer can provide great advice regarding the legal options available to you and this often pushes the insurance company to offer a fair settlement amount.
Settlement Negotiation
If you don't have an experienced car lawyer who will negotiate on your behalf, you may not receive fair compensation from the insurance companies. Fortunately, the lawyers at Hartley Rowe & Fowler are experienced in negotiation claims and will help you recover the compensation you deserve.
Trial Preparation and Representation
If settlement negotiations fail, you may have to file a lawsuit to try to recover the compensation you deserve. While this rarely ever happens, our lawyers are always up to the task and will represent you in court to ensure that you receive a favorable verdict.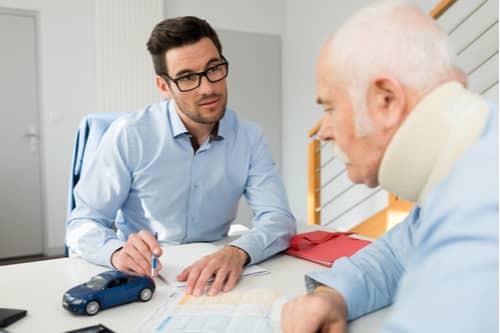 What Type of Damages Can I Recover?
Victims can receive three types of damages after a car crash in Villa Rica:
Economic Damages
Economic damages are intended to cover any financial loss or expense related to an injury incurred as a result of the car accident. Examples include:
Loss of Earnings
Past, Current, and Future Medical Costs
Property Damage
Lost Future Capacity to Earn
Non-Economic Damages
Non-economic damages, on the other hand, compensate you for a range of intangible losses that don't have a specific monetary value. Examples include:
Mental or emotional anguish
Physical suffering and pain
Impairment and/or disfigurement
Loss of companionship
Loss of consortium
Loss of enjoyment of life
Punitive Damages
Punitive or exemplary damages are typically awarded by the court to punish the defendant for fraudulent, malicious, or grossly negligent behavior. The damages are rarely awarded but are justified in some extreme cases.
How Is Fault Determined?
To determine fault, your lawyer may bring in the 4 elements of negligence, which are:
Duty of Care: The other motorist owed you a duty of care.
Breach of Duty of Care: The other motorist violated this duty of care.
Causation: The other motorist's breach of duty of care caused injuries and losses.
Damages: You suffered injuries and economic losses.
Georgia uses a comparative negligence standard which also comes into play when determining fault. It means that you can still recover compensation, but only if you are found to be less than 50 percent at fault. For instance, if you are found to be 30% at fault, the compensation amount would be reduced by 30 percent.
How Long Do I Have to File a Claim?
You are required to file a claim for compensation within a certain time limit, which is referred to as the "statute of limitations". In Georgia, the statute of limitations for filing car accident claims is 2 years from the date of the accident.
How Can a Lawyer Help Me File My Insurance Claim?
Your lawyer will first help you fill out the claim forms that are then submitted to the insurance company. The insurance company then looks into the damages and determines what amount of compensation would be suitable. Your lawyer will negotiate with the insurance company on your behalf to try to get the best outcome possible for you.
What Can I Do If Insurance Denies My Claim?
If the insurance company denies your claim, your lawyer can appeal that decision by providing supporting documentation and evidence to show the extent of your injuries, property damage, and the other party's negligence.
Do I Have a Case?
You might have a valid claim if someone else's actions caused your injuries, but each situation is different. That's why it is always advisable to consult with an experienced lawyer who can determine whether you have a case based on the details of your accident.
What If the Other Driver Doesn't Have Insurance?
You can first try making a claim through your own policy. However, you may have to take your own insurance company to court to secure the benefits guaranteed under your Uninsured Motorist policy. Having legal representation is important when dealing with uncooperative insurance providers.
How Can I Obtain an Accident Report?
Your lawyer can help you get in touch with the law enforcement agency that came to the accident scene to get a copy of the accident report. In Villa Rica, those agencies include the Villa Rica Police Department, the Douglas County Sheriff's Office, or the Carroll County Sheriff's Office. You can submit a request for the accident report via regular mail, email, or the police department's website.
Our Trusted Villa Rica Car Accident Lawyers Are Here for You!
If you have been injured or have suffered property damage or loss in a car accident, you can count on the experience that out Villa Rica car accident lawyers at Hartley Rowe & Fowler can offer. We are passionate about helping you recover the compensation you deserve. Contact our offices today at 678-825-6004 to get started with a free consultation.